December 10, 2014
Thousands of customers, like Dennis and Dan, depend on Metro transit every day to get to work, to school and other important destinations. We hope you enjoy their stories and we're interested in your transit story, too. Email me at [email protected],and we may share your story in a future "Passenger Profile" blog.
Dennis and Dan work at the same company in downtown St. Louis and they both take MetroLink to get to and from work.
For Dennis, his 30-minute commute starts with a short walk to the Central West End MetroLink Station. While he usually enjoys walking to the station, sometimes he rides the #13 Union or #18 Taylor as an alternative. He takes the train to the Stadium MetroLink Station.
In addition to his normal work commute, Dennis uses MetroBus to get around for fun, hopping on the #33 Dorsett-Lackland to travel to places in St. Louis County and the #41 Lee and #70 Grand to explore places around town.
"The bus is a nice way to visit other places from time to time," Dennis said. "It's nice not having to drive everywhere if you don't have to."
Dennis said he enjoys the predictability of MetroLink. Plus, he enjoys relaxing, listening to music and not having to worry about traffic.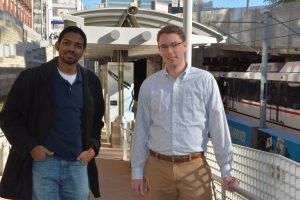 Dan's normal commute starts with a short drive to the Forsyth MetroLink Station in Clayton. From there, he takes the train to the Stadium Station.
On nice days though, Dan prefers to walk a mile to the Skinker MetroLink Station. When it's rainy, Dan also uses the #16 City Limits.
When Dan used to live in Webster Groves, he'd board the train at the very end of the Blue Line at the Shrewsbury Lansdowne I-44 MetroLink Station. Dan has been using MetroLink nearly four years now and said he uses Metro about 10 times a week.
Like Dennis, Dan enjoys the on-time consistency of MetroLink and how it eliminates stress. He also saves money by not having to park downtown and that saves on the wear and tear of his car.
Both Dan and Dennis have been ending their workday on board MetroLink for about four years now. So far, it's turned into a nice way to unwind after a long day at the office.
"It's nice to know people, to have your own little community," Dennis said.
Return to Blog