October 15, 2014
Thousands of customers, like Dennis, depend on Metro transit every day to get to work, to school and other important destinations. We hope you enjoy his story and we're interested in your transit story too. Email me at [email protected] and we may share your story in a future "Passenger Profile" blog.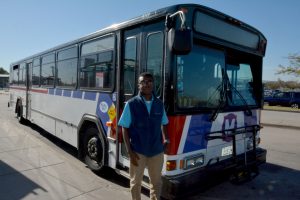 Dennis has grown up around public transportation, and while he depends on transit to get to work and school, he also uses his commute time to think about designs for his next artistic creations.
Dennis started drawing buses when he was a child, first on old bus schedules and then to drawing paper. Around the time Dennis entered the fourth grade, his paper sketches transitioned into three-dimensional models.
Dennis has about 15 bus models in his fleet in various forms of development. His fleet consists of 40-foot low-floor buses, 35-foot low-floor buses, a trolley, Madison County Transit (MCT) buses and many more. He's currently working on a 60-foot articulated bus, but has run into a challenge.
"It's that bendy part that's giving me the most trouble," he said.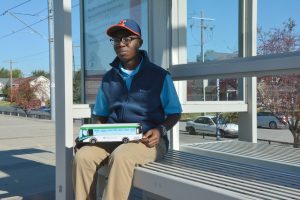 He has created several model buses for friends and for MCT bus operators. In fact, one of his creations was decorated on top of a cake for a retired MCT operator.
Dennis said he improves the detail and complexity of his models with each new variation, making them more realistic than the last. He designs them as a fun hobby, not to make money, so he hasn't charged his friends or bus operators for his models.
When Dennis isn't creating bus models, he's commuting back and forth from his job in St. Clair Square. His commute starts off by walking about three blocks from his home in Madison County, Ill.  and catching the #5 Tri-City Regional Madison County Transit bus to the Emerson Park MetroLink Station. From there, he rides the train to the Swansea MetroLink Station and boards the #16 St. Clair Square MetroBus to get to work. He said his commute takes about an hour and 31 minutes.
Dennis said living without a car is "different," but certainly not impossible. He said it's definitely much cheaper to take public transit than to own a car. While Dennis would like to own a car one day, he said he'll never completely cut public transit out of his commute.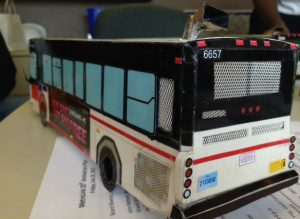 In addition to his daily commute, Dennis frequently uses MetroLink to visit Culinaria in downtown St. Louis. He also uses the train to visit the Galleria and to hang out in Forest Park. Sometimes, Dennis even enjoys hopping on a random bus route to enjoy a new experience.
"I like the environment and the scenery," he said.
Dennis plans to attend Southwestern Illinois College in Belleville for the spring semester, and will take MetroLink to get there. As a student at SWIC, Dennis will be able to obtain a University Pass, allowing him to ride Metro free of charge.
Dennis advises those new to public transportation to get out and be adventurous.
"You can't judge something unless you've experienced it," he said. "Take a nice day and go explore."
Return to Blog