April 7, 2021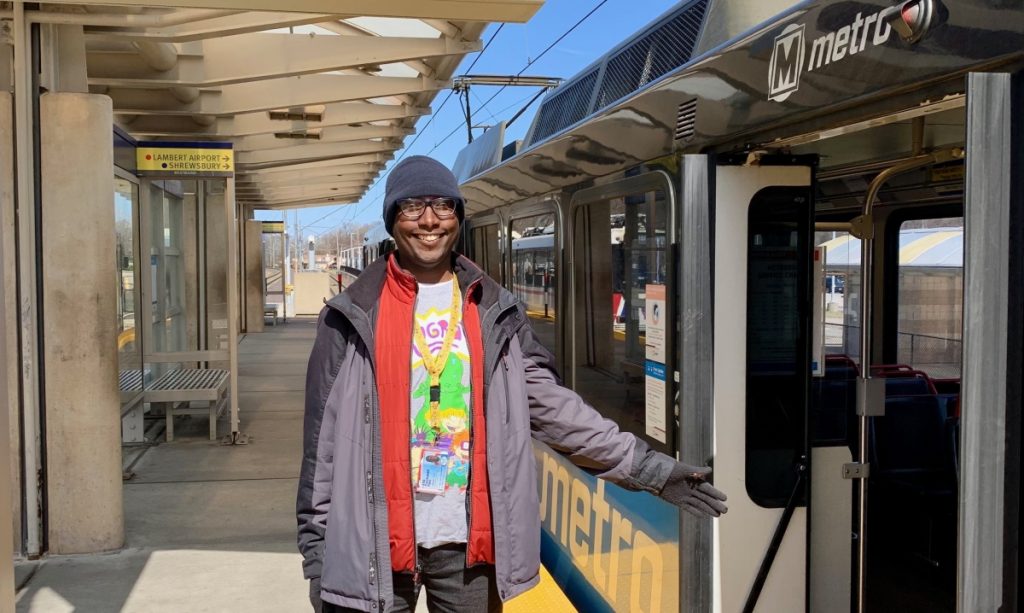 Dominike has been using Metro Transit since he was a kid, riding MetroLink with his mom and learning how to get around and explore the region, and he even had a teacher show his class how to use public transportation.
One of the reasons he likes riding is our kind operators. And because of Metro, he gets to explore the different parts of our region.
"I know all of the MetroLink stations! I also know all of the bus lines in Illinois and a few of them on the Missouri side."
You can typically find him on the #1 Main Street – State Street, #12 O'Fallon-Fairview Heights, #13 Caseyville-Marybelle, or on MetroLink, but his favorite is the #12.
Dominike doesn't have a car, so he relies on Metro to get him where he needs to go. Saving money on transportation is a huge benefit for him, and when he's riding, he loves to sit back and let our wonderful operators do the driving.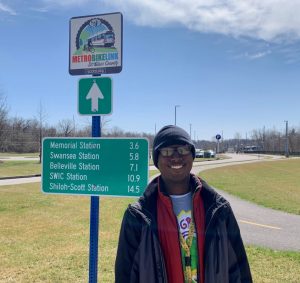 "I don't like to rush – I like to take my time and do things like listen to music, read the newspaper or play games on my phone. Owning a car or driving is boring to me. Metro is more enjoyable!"
Not only does he love to use Metro – he also loves getting out onto the MetroBikeLink Trail in Illinois. He first noticed the trail when riding on MetroLink, and he knew he had to give it a try.
"It gives me a chance to get out of the house and walk or ride my bike and enjoy being outside. I like the beautiful scenery and how peaceful it is. The trail is my place where I come to think and get some good exercise. I also like waving at the trains as they pass by."
Check out our Q&A below to learn more about Dominike.
---
What are 3 words to describe Metro?
Reliable, convenient, fun and a money saver!
Do you have a favorite bus route?
My favorite route is the #12 O'Fallon-Fairview Heights that takes me to the mall or the movies.
What is your favorite way to spend your commute?
My favorite way to spend my commute is listing to music, or just looking out the window. I always try to get the window seat and enjoy all of the views!
What is something thing on your bucket list?
I would like to take a cruise on the riverboat on the Mississippi River. I would also like to go in the Arch and ride to the top to view the city. I remember my class went on a field trip to the Arch and the riverboat when I was in high school, but that's been a while.
Do you have advice for someone who is new to the system?
I advise anyone new to the system to find a place they might like to go explore and to check out the awesome MetroBikeLink Trail.
---
The Transit app is a great resource to help you explore on Metro Transit. You can plan your trip, track your ride, and pay your fare all in one place. Learn more here: metrostlouis.org/transit-toolbox
With the weather warming up, now is the perfect chance to check out the recently expanded MetroBikeLink Trail. If you need a break during your excursion, hop on MetroLink to get you further down the trail or back to where you started! Learn more about bringing your bike on MetroLink here.
Passengers like Dominike rely on Metro Transit to get to work, school and other important destinations. We want to hear your transit story. Email us and we may share your story in a future Passenger Profile.
Return to Blog
Categories:
Metro Lifestyle