September 24, 2014
Thousands of customers depend on Metro transit every day to get to work, to school and other important destinations. Today's "Passenger Profile"  features Don. We're interested in your transit story too. Email me at [email protected] and we may share your story in a future blog.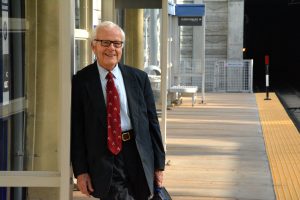 When the Catholic Legal Assistance Ministry (CLAM) moved to downtown St. Louis into the newly renovated Saint Louis University Law School building on 100 North Tucker, Don turned down a reserved parking space, choosing instead a Metro reduced fare monthly pass.
The pass is the only compensation he receives as a volunteer attorney for CLAM, an organization that offers representation for families who cannot afford an attorney. Don said he doesn't like driving in the Interstate 64 traffic congestion to downtown. Plus, taking public transit has become a pattern he's developed that works for him and the work he does.
Don's commute starts with an eight-minute drive to the Brentwood I-64 MetroLink Station. From there, depending on his workload, he may take the train to the Clayton MetroLink Station to appear in court at the St. Louis County courthouse. Most days, Don travels downtown, getting off the train at either the Civic Center Transit Center or the 8th & Pine MetroLink Station and walks to the Civic Courts building or to his office.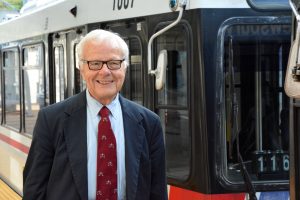 Don was a public transit rider well before MetroLink came online in 1993. He remembers paying the 25-cent streetcar pass to ride up to Ferguson. His family lived near the Forest Park streetcar line and would hop on that line to head downtown.
In addition to streetcars, Don also used to ride the Ladue Express bus route on Highway 40 along with executives, such as the president of Union Electric Company, bank presidents and CEOs.
Don said his predisposition for public transportation was inspired by his grandfather who lived to be 103 years old. His grandfather never learned how to drive a car, Don said.
"My grandfather rode public transportation all the time," he said.
Don purchases his reduced monthly pass at the nearby Dierbergs each month. In his briefcase, Don brings the latest edition of The New York Times, which he opens the minute he boards the train. If he's not reading the paper, Don is checking email on his iPad.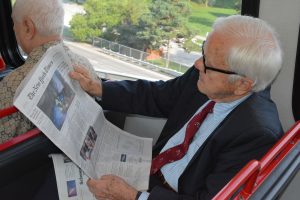 "A lot of my friends can't believe that somebody who is 85 would be using public transportation," he said, "but here I am."
Don helped get the word out about Proposition A, which helped restore transit services that were reduced in 2009. He was featured in  commercials supporting the measure.
"I felt people were not considering public transit as an option," he said.
As for encouraging his four children and six grandchildren to use public transportation, Don said that is a work in progress.
Return to Blog