January 6, 2016
Passengers, like Dyanna, depend on Metro transit to get to work, school and other important destinations. We hope you enjoy her story, and we're interested in your transit story too. Email [email protected], and we may share your story in a future "Passenger Profile."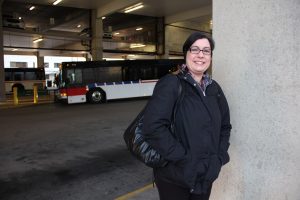 When Dyanna's employer started providing their employees with a Metro transit pass free of charge as an incentive, you didn't have to ask her twice to get on board.
"I definitely took that opportunity not to put wear and tear on my car," she said.
And for eight years now, Dyanna has relied on MetroLink to get her to and from work each day, and keep her car out of rush hour traffic. To get to work, Dyanna boards the train at the Fairview Heights MetroLink Station and exits at the Central West End MetroLink Station. From there, she walks to the Central West End Transit Center where an employee shuttle picks her up and drops her off at her final destination.
Dyanna also uses MetroLink to get to school, events and conventions in downtown St. Louis, and to see concerts and games at the Scottrade Center.
"It's very convenient," she said.
In addition to being a smart economic move, Dyanna also uses MetroLink for its stress-free qualities.
"I don't have to sit in traffic," she said. "I don't have to worry about other cars. I can sit. I can read or I can chat with someone."
As far as advice, Dyanna recommends new riders jump in and give it a try.
"Don't hesitate," she said, "just get on board."
Return to Blog