May 7, 2014
Thousands of customers depend on Metro transit every day to get to work, to school and other important destinations. We are going to share some of their transit stories as part of a new feature called "Passenger Profile."  We're interested in your transit story too. Email me at [email protected] and we may share your story in a future blog.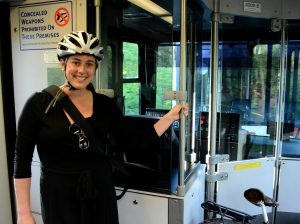 When Emily decided to move back to St. Louis in 2009, she brought with her a pretty lofty challenge. How could she not be car-dependent in St. Louis?
Emily turned to MetroBus and MetroLink as the solution. While she and her husband share a car, they don't use it very much.
To get to work, Emily rides her bike from the Tower Grove South neighborhood to the Central West End MetroLink Station where she catches MetroLink and rides the train for nine minutes to the Forsyth MetroLink Station. From there, she walks (or bikes) a few blocks to her job at Washington University. She says her entire trip takes less time than driving to work.
Her commute not only gets her from point A to point B, but also keeps her in tip-top shape.  She's able get her daily exercise when she bikes to and from the MetroLink station.
"If I choose to drive, I'd still have to work out," she said.
In addition to burning calories, Emily enjoys "me time" on the bus or on the train. She also reads and checks up on Twitter.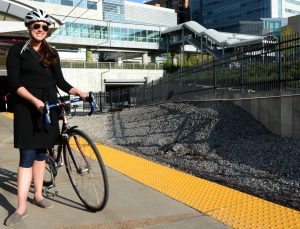 During the winter, when the weather was especially brutal, Emily choose the #70 Grand route to get her safely to the Grand MetroLink Station. She chooses to ride the #70 Grand due to its frequency.
Public transportation is very important to Emily. In fact, it was one qualification that attracted her to the job at Washington University. The university purchases the U-Pass, a free transit benefit for full-time students, staff and faculty.
While Emily has found a way to rely more on Metro and less on her car, she acknowledges that it can be a hard decision for those new to transit. She said the hard part is a change in routine.
"It's not just about taking the train," she said. "Rather, it's saying, 'I'm not going in my car.'"
Emily also uses Metro to visit her parents in Clayton and to hang out with friends in the Central West End.
Return to Blog