April 15, 2014
Thousands of customers depend on Metro transit every day to get to work, to school and other important destinations. We are going to share some of their transit stories as part of a new feature called "Passenger Profile."  We're interested in your transit story too. Email me at [email protected] and we may share your story in a future blog.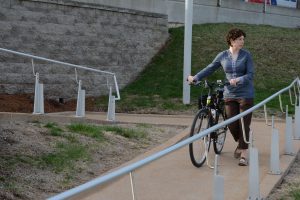 As a resident of the Shaw neighborhood in south St. Louis, Emma has plenty of options when it comes to choosing a MetroBus route.
Her most common route is the #80 Park-Shaw at Shenandoah and Thurman Avenues. She takes that route to the Civic Center MetroLink Station, boards an eastbound train and arrives at the 8th and Pine MetroLink Station downtown. From there, she walks a few blocks to her office.
She also can walk to Grand Boulevard and take the #70 Grand to the Grand MetroLink Station, or walk through Tower Grove Park and take the #30 Soulard, or choose the #8 Bates-Morganford route from her neighborhood.
"I have different options," she said, "but it's always anywhere between 30 minutes to 40 minutes."
Emma moved to St. Louis in 2007 and has been using public transportation ever since. While she shares a car with her husband, both try and bike to work most of the time or take Metro.
"Honestly, I just don't want to buy a car until I have to," she said. "I felt I didn't want to invest the money in parking, maintenance, insurance, gas, car payments, all of that if I didn't have to."
In addition to the extra savings, Emma said she also likes the extra time Metro gives back to her. She's able to read all her emails before she steps into the office, allowing her to be more productive at work. She also reads, writes and talks to people while on the train or bus.
"Now when I'm in a car, I feel like I'm not multitasking," she said. "I feel like I'm wasting time."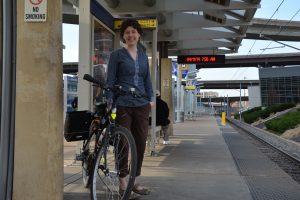 Emma has met some interesting passengers during her seven years as a MetroBus rider. For example, on the #70 Grand, Emma remembers a man who sketches anime cartoons and a lady who cross stitches.
"The #70 is hilarious and amazing," she said. "It's the most full and always full of characters."
Emma remembers another memorable moment while on the #32 ML King-Chouteau. The bus was stopped in traffic and an elderly woman was walking on the sidewalk and fell.
"Without anyone speaking or coordinating, the bus driver opened the door and the first three people hopped up and ran out to help her," she said. "After they helped her, they got back on, sat down and the driver closed the door. There was no communication. It was very implied. There's a culture of community that I have found while riding the bus."
Even though Emma is a long-time bus rider, she still can understand why some are a little hesitant to give Metro a try. She said some people may think of a big city transit agency as gritty, but she said that's not the case here. "It's so clean," she said.
Return to Blog