March 24, 2021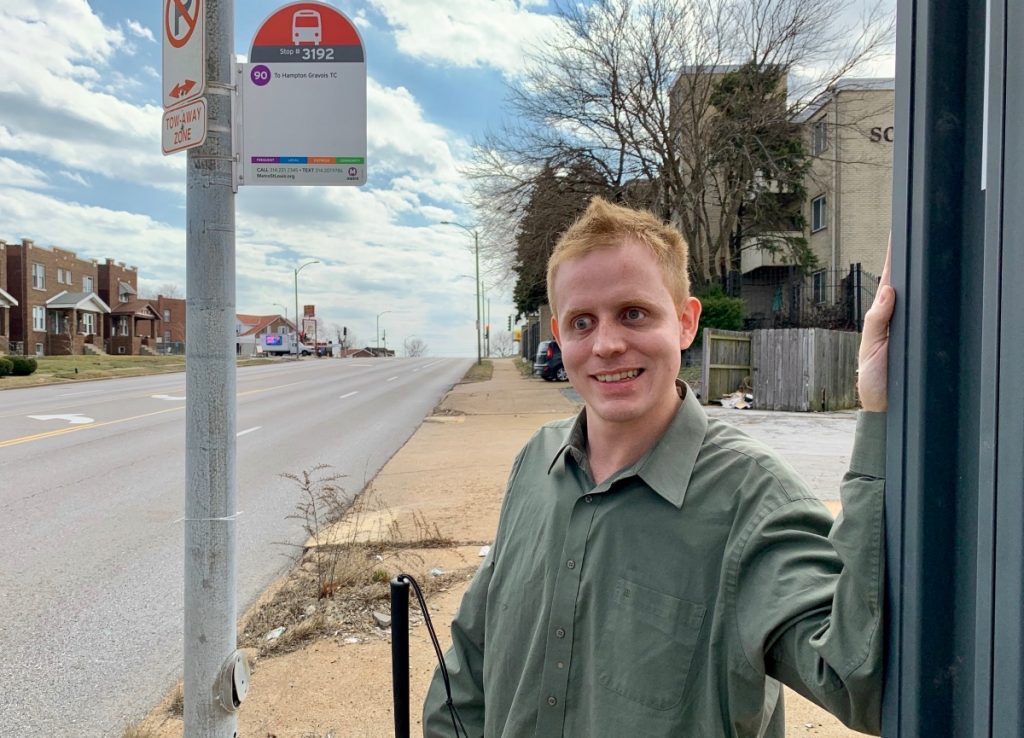 Learning the in's and out's of the Metro Transit system and its 38 MetroLink stations and 66 MetroBus routes can sometimes be a lot to absorb for a new rider. This is especially true if you are new to St. Louis. And, if you are a blind or have a visual impairment, learning how to navigate and travel throughout the bi-state region can seem challenging.
Everett checks all of these boxes. He is not only one of our newest riders, but is also one of our newest St. Louisans. He moved to St. Louis about four months ago from Arkansas, looking for a fresh start. As part of that fresh start, Everett knew he needed to learn how to get around his new home.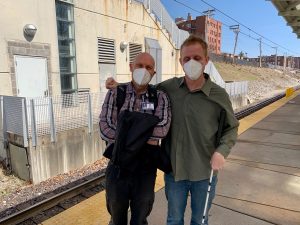 That's where our travel training program came in. Everett reached out to the St. Louis Society for the Blind and Visually Impaired last fall, who connected him with Metro and our program. That's how Everett met Klaus, one of our travel trainers, who developed a plan to help Everett reach his goals.
"We tailor our travel training program to the needs of each individual rider. Everyone is unique," Klaus said. "For Everett, since he is new to St. Louis, it was important to not only get him familiar with how to use the Metro Transit system, but also with his neighborhood. We covered everything from how to use MetroBus and MetroLink, to how to navigate the streets in Everett's neighborhood and find different bus stop options so he can easily access the transit system. And, also how to adjust when things don't go perfect, like a failure in technology or if you take the wrong angle when crossing a street."
Everett lives in a St. Louis neighborhood that has a unique map where streets do not always follow the conventional north-south, east-west grid pattern. As part of the training to help him better understand the setup of his neighborhood, Klaus developed a tactile map for Everett. The map uses different textures to identify streets, bus stops, crossings and other nearby features, making it easier for Everett to learn with the touch of his fingers.
"I have optic hypoplasia, so my spatial awareness is affected. The tactile maps Klaus created were very helpful," Everett said. "Working with him over the past few months has really helped me learn my immediate neighborhood and become comfortable with my surroundings."
Everett has also become comfortable with Metro Transit over the course of his training. Starting with guided, firsthand instruction on how to use the system and its accessibility features, as well as how to buy fares, plan trips, catch the bus, etc., Everett is now using Metro for his work with World Services for the Blind, to explore his new city, and to reach other important destinations around town.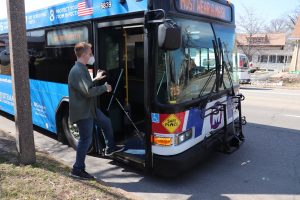 "I'm comfortable with my bus route, the #90 Hampton, and riding the train to different parts of the city," Everett said. "I'm working on adding more destinations and getting more familiar with transferring between different bus routes."
Technology is also a valuable resource for Everett as he travels around the region. With the Be My Eyes app, Everett is able to quickly connect with volunteers who can provide visual assistance through a live call on his phone. With the phone's camera, they can help Everett identify landmarks, read signs and more. The Transit app is also incredibly useful for Everett – and easy to use – allowing him to conveniently plan his trip, pay his fare or find out exactly when his bus is arriving at his stop, in real time.
"Every phone comes with accessibility features, like voiceover, gesture controls and voice controls," Everett said. "Transit app works great with these features."
This has been quite a transition for Everett. Over a few short months, he's gone from a new resident and new transit rider, to someone who is starting to feel at home in his new community. And, he's felt welcomed throughout the entire journey.
"Everyone is great," Everett said. "My fellow passengers have been super nice. And the guards are nice and very helpful."
Check out our Q&A below to learn more about Everett.
---
What do you like to do for fun?
I play the violin and fiddle. And I'm a big fan of Ari's Restaurant. Whenever I have visitors in town, I always take them to Ari's.
What is on your bucket list?
I want to travel to England, and head back to Spain sometime. I also want to go running and skiing in Canada.
Do you have any tips for someone who is new to Metro Transit?
Walk around The Hill and try to get on a bus there, that neighborhood has good accessibility. Transit app is also great. I'm developing a video series for Transit app to help others better understand how they can best use it. Also, don't hesitate to call and get help if you need it.
---
That's great advice, Everett. Be sure to check out Transit app, and if you ever need assistance, our transit information experts are here to help. You can text them at 314-207-9786 or call them at 314-231-2345, available Monday through Friday from 7 a.m. to 6 p.m. Click here to learn more about accessibility on Metro Transit and our travel training program.
Passengers like Everett rely on Metro Transit to get to work, school and other important destinations. We want to hear your transit story. Email us and we may share your story in a future Passenger Profile.
Return to Blog
Categories:
Metro Lifestyle