January 7, 2015
Thousands of customers depend on Metro transit every day to get to work, to school and other important destinations. Today's "Passenger Profile"  features Evie. We're interested in your transit story too. Email me at [email protected] and we may share your story in a future blog.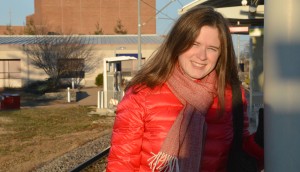 When Evie moved to St. Louis back in 2010, it was her first real experience living in a city. It was also her first time giving public transportation a try.
Evie moved into a place about a mile from our Central West End MetroLink Station. At that time, she worked at Washington University and had a Metro pass provided by the school. It didn't take long for her to leave her car behind.
"It sat along the side of the road most days," she said. "Plus, living in the Central West End opened up my eyes about how I could do a lot of things without a car. I eventually donated it."
After a while, Evie moved to the Benton Park neighborhood. While living there, she would take the #73 Carondelet. She not only remembers that route, but also the service from one of her MetroBus operators.
"I remember Gloria, a veteran MetroBus operator," she said. "She was a great example of the community feel that exists when you ride the bus. She often had a friendly relationship with her passengers. She knew something about most of her passengers and she was always willing to listen."
Today, Evie lives in the Tower Grove South neighborhood and works at the University of Missouri – St. Louis. Typically, she catches the #95 Kingshighway and takes it (or her bike) north to the Central West End MetroLink Station. From there, Evie hops on a Red Line train headed west to the UMSL North MetroLink Station. Her commute takes about 45 minutes.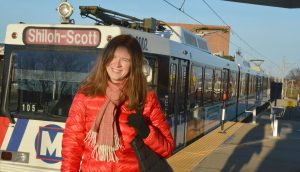 While her train commute is brief, Evie does try and get in a bit of reading. She'll scan through her latest tweets, check Facebook and knock out a few emails before work.
"I also like to just sit and mentally think through the day," she said.
In addition to the cost-saving benefits, Evie said she also uses Metro, along with walking and biking, as a way to alleviate stress. Plus, she admits, she's not a big fan of driving.
"Metro is definitely a stress reliever," she said. "I don't have to worry about traffic."
She also enjoys the small things public transportation offers. For instance, while on the #95 Kingshighway, she often shares her commute with a special young passenger.
"She gets on with her grandmother before I do," she said. "Each time she exits the bus she says, 'You all have a great day!' It brightens my day and I think everyone else's too."
Return to Blog