September 17, 2014
Thousands of customers like Falaunda depend on Metro transit every day to get to work, to school and other important destinations. We're interested in your transit story too. Email me at [email protected] and we may share your story in a future "Passenger Profile" blog.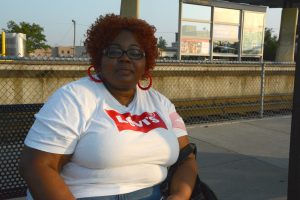 Falaunda's morning commute to work starts around 7 a.m. each morning.
She utilizes both MetroBus and MetroLink, taking advantage of the #4 19th & Central – ML King or the #1 Main Street – State Street and the 5th and Missouri MetroLink Station. Her commute takes about 15 minutes.
Falaunda works at a senior citizen home in Illinois and primarily uses Metro to get to and from her job. However, she also uses Metro to go to Busch Stadium and to pick up groceries now and then.
She said riding Metro is a more convenient, cost-effective option than driving. Plus, she doesn't have to worry about traffic and can stay well within her budget.
"Metro gets me to work and back home in a short, peaceful manner," she said.
Falaunda also enjoys meeting new people on the train or bus, seeing different faces and interacting with the friendly bus and train operators.
She recommends riders try out different MetroBus routes and learn about different ways to commute. She said everyone should at least know what public transportation is available just in case something were to happen to your car.
She encourages her friends to try public transit and to enjoy the benefits.
"A lot of my friends commute using Metro and they really like it," she said.
Return to Blog