October 1, 2014
Thousands of customers depend on Metro transit every day to get to work, to school and other important destinations. Today's "Passenger Profile"  features Faye. We're interested in your transit story too. Email me at [email protected] and we may share your story in a future blog.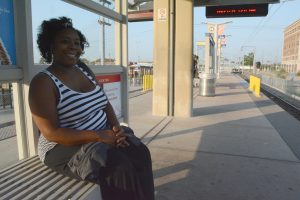 In order to get to and from class each day, Faye boards a westbound Blue Line train from Illinois to St. Louis County.
She said it's about a 30 minute ride from the 5th & Missouri MetroLink Station to the Shrewsbury Lansdowne I-44 MetroLink Station. At Shrewsbury, she gets on a special school shuttle that drops her off at Brown MacKey College.
"It's easier," she said, "there's no traffic. You sit, you get off and that's it."
Faye has been doing this particular commute for two years but has been a MetroLink customer for more than six years now. She also takes MetroLink to the Fairview Heights Station for work.
Faye enjoys sitting back and relaxing on the train, but lately, she's been a bit more curious.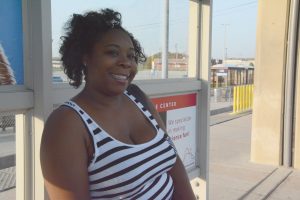 "I like browsing at the people getting on and off the train," she said. "There's always something funny that's happening on the train."
In addition to using MetroLink to get to work and school, Faye also uses it to spend some quality time with her two-year-old daughter. Recently, they rode the train to the Forest Park-DeBaliviere MetroLink Station and caught the #3 Forest Park Trolley to visit the Saint Louis Zoo and the Saint Louis Science Center.
Faye encourages new MetroLink riders to be adventurous and to ride the light rail system often.
"Go, see how far it goes," she said. "Get on the train and explore your city!"
Return to Blog