September 4, 2014
Thousands of customers depend on Metro transit every day to get to work, to school and other important destinations. Today's "Passenger Profile"  features Frank. We're interested in your transit story too. Email me at [email protected] and we may share your story in a future blog.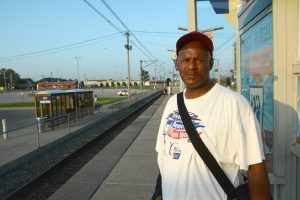 You could say Frank knows his way around when it comes to MetroLink and MetroBus. He's been taking Metro since 1996.
"I've got it all mapped out," he said.
Frank primarily uses the train and the bus to make it to doctor's appointments. To get there, Frank catches the #4 19th & Central – ML King to the 5th and Missouri MetroLink Station. From there, he boards a eastbound Red Line train to the Swansea MetroLink Station. He then boards #16 St. Clair Square, which drops him off near his doctor's office.
Frank said it's important to have a game plan rather than to "freelance it" before heading out the door. The better prepared you are, the least likely you'll be stressed out or to miss a connection, he said.
"When you're dealing with any kind of medical issue, you have to plan your ride," he said. "You have to make sure the bus or train is there so that you can make your appointment."
In addition to doctor's appointments, Frank also uses Metro to meet up with friends and to run a few errands.
Frank said he really appreciates the fact that the trains and buses run on time the majority of the time.
Return to Blog