September 9, 2015
Passengers, like Gale, depend on Metro transit to get to work, school and other important destinations. We hope you enjoy her story, and we're interested in your transit story too. Email [email protected], and we may share your story in a future "Passenger Profile."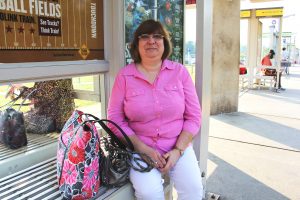 Gale has been using Metro transit for about 15 years and has no plans to stop anytime soon.
For one thing, her MetroLink trips during the weekday to and from downtown St. Louis save her from the hassles of sitting in traffic.
"I don't like driving to St. Louis," she said. "Sometimes the traffic can be horrific."
In addition to avoiding bumper to bumper jams, Gale also uses MetroLink to unwind.
"I like to read and listen to music," she said. "My commute is my way of de-stressing before and after work."
To get to work during the week, Gale will board a MetroLink train at the Fairview Heights station and take it to downtown St. Louis where she works. She said it's about a 20-minute commute each way.
In addition to commuting to work, Gale also uses MetroLink to avoid sports traffic during St. Louis Cardinals baseball games. Every once in a while, Gale will also take the train downtown to grab a bite to eat.
"It's very convenient," she said. "The pros outweigh the cons."
Return to Blog