June 10, 2015
Customers, like Gerald, depend on Metro transit to get to work, school and other important destinations. We hope you enjoy his story, and we're interested in your transit story too. Email [email protected], and we may share your story in a future "Passenger Profile" blog.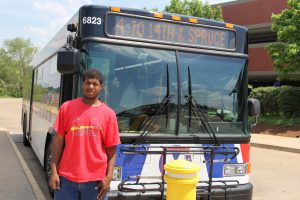 Gerald started using public transportation when he was young and he'd ride alongside his father. His dad never wanted to own a personal vehicle, instead choosing to rely on "big blue."
"That's what my dad used to call MetroBus back then," Gerald said.
While his dad helped provide some first-hand experience, Gerald said he primarily figured out how to ride the bus on his own. He'd look at bus schedules, experiment with routes and learn where they went.
Gerald also rides MetroLink, and he remembers his first time trying out the newest expansion to the MetroLink system in 2006, the Cross County MetroLink Extension.
"When they first opened the Cross County Extension," he said, "I felt like I was on a roller coaster."
Gerald's regular commute starts by catching the #4 Natural Bridge in Pine Lawn and taking it to the North Hanley MetroLink Station. He then catches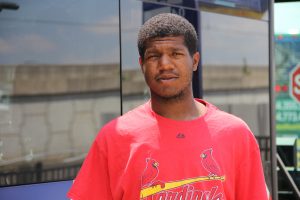 the #49 North Lindbergh to his job in St. Louis County. Depending on highway traffic, his commute takes about an hour.
In addition to riding Metro to get to work, Gerald also uses Metro to attend ball games downtown or see hockey games at the Scottrade Center. He also uses MetroBus and MetroLink to visit his mom in the Central West End and visit his favorite restaurant – The Wheelhouse – located between the Stadium and Civic Center MetroLink Stations.
"I'm saving money by not paying for gas or for parking," he said. "Plus, most of the time, it's much faster than being stuck in traffic."
Return to Blog