December 23, 2015
Passengers, like Ginny, depend on Metro transit to get to work, school and other important destinations. We hope you enjoy her story, and we're interested in your transit story too. Email [email protected], and we may share your story in a future "Passenger Profile."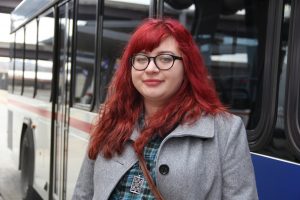 A new job for Ginny means a new transit commute. Luckily, she already knows the system.
She has a couple of options to get to her new job. She can either hop on the #73 Carondelet or the #11 Chippewa to travel to the Civic Center Transit Center. From there, it's only a short walk to work. She said her new commute takes about 30 minutes.
It's a little shorter than her old work commute, which started from the same location, but required her to hop on MetroLink from the Civic Center MetroLink Station and travel eastbound on a Red Line train to the Belleville MetroLink Station.
Ginny relies on Google Maps and Google Transit to plan her trips on Metro transit. She recommends those new to MetroBus or MetroLink to learn about the specific bus routes and their schedules ahead of time.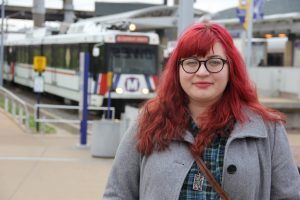 Ginny started riding in 2001 after the opening of the St. Clair County Extension, when MetroLink expanded east from the 5th & Missouri MetroLink Station to the College MetroLink Station in Belleville, Illinois. She grew up in Belleville and would use MetroLink to attend concerts in St. Louis.
"We were young teenagers," she said. "It was cheap and our parents didn't need to drive us."
Ginny said a large part of why she chooses MetroLink besides driving to work (she owns a truck) is for environmental reasons.
"Cities that have accessible public transportation enrich the community for everyone," she said.
Return to Blog