August 12, 2015
Passengers, like Janneka, depend on Metro transit to get to work, school and other important destinations. We hope you enjoy her story, and we're interested in your transit story too. Email [email protected], and we may share your story in a future "Passenger Profile."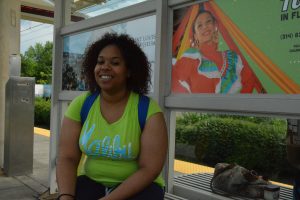 When Janneka first started riding Metro, it was a bit of a rough start. But, accidentally getting lost also had its benefits.
"I got lost the first time I rode on the bus," she said. "Luckily, the bus operators are good about giving directions. You learn your way around. It takes getting lost to learn that, 'Oh, I can do this or I have to be out at the bus stop at this time.'"
Because of her experience, Janneka always tries to help new Metro riders find their way when she can.
"When you see people coming from the airport and they don't know where they're going, it's always nice to see somebody else helping them out," she said. "I help passengers because I would want somebody to help me."
Janneka advises those new to transit to always make note of the head sign located at the front of each bus and to always ask the MetroBus operator for directions if you're not 100 percent confident about where you're going.
"Bus operators are there to help you," she said. "They're really friendly."
Janneka mainly uses Metro to get to and from school during the week. She usually boards a Red Line MetroLink train at the Belleville MetroLink Station and rides the train to the North Hanley MetroLink Station for her trip to school. Her commute takes about an hour, enough time to listen to music, play games on her phone or just relax.
She also uses a combination of MetroLink and MetroBus to see her friends, go to doctor's appointments or to "just get out." The MetroBus routes she uses the most include the #16 City Limits, #17 Oakville and the #1 Gold Line.
"It's convenient and it's cheaper than paying for gas," Janneka said.
Return to Blog