April 22, 2015
Customers, like Jeffrey, depend on Metro transit every day to get to work, school and other important destinations. We hope you enjoy his story, and we're interested in your transit story too. Email [email protected], and we may share your story in a future "Passenger Profile" blog.
Jeffrey has broken a record — well, his own personal record.
He's read or listened to more than 35 books so far this year, 15 to 20 of them being audiobooks. How has he been able to accomplish such a feat? You guessed it: Metro transit.
"Metro helps me increase the number of books I read each year," he said. "That's amazing. I've never read that many books before."
Jeffrey started riding Metro regularly in 2008 and he uses MetroLink and various MetroBus routes to get to work and around town. His typical daily commute starts with the #90 Hampton and heading north to the Forest Park-DeBaliviere MetroLink Station. He then boards a Red Line train and exits at the UMSL South MetroLink Station.
"It's less stressful," he said. "Plus, you save gas and wear and tear on your car."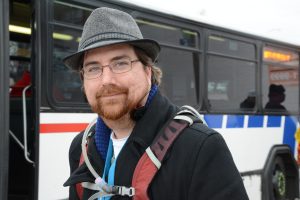 Jeffrey said riding the bus or train provides him with a sense of ownership and civic pride in a way he had never experienced before.
"You get to experience more when you ride the train or bus," he said. "You get to experience different backgrounds and interact with different cultures. You can't do that in a car."
Jeffrey admits that it was a bit of a challenge at first to learn the Metro system, but he soon got the hang of it. He encourages new riders to take advantage of various travel tools to make their Metro commutes easier, such as our Trip Planner or Google Transit, or ask a bus operator for help.
"They are always willing to help," he said. "They may not know the exact bus stop, but they will do their best to get you where you need to go."
Return to Blog