January 6, 2021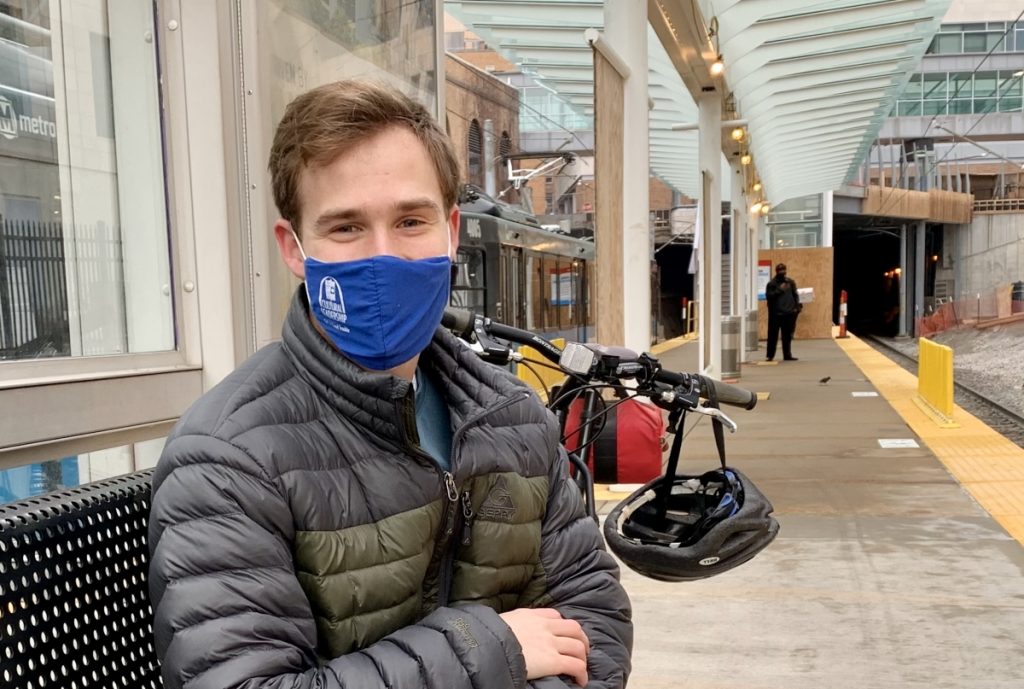 Meet Jeremy: He grew up in St. Louis and recently moved back to the area after graduating college. He is a new rider, and has been using Metro Transit for the last few months.
Jeremy doesn't have a car so he relies on biking or using MetroLink to get where he needs to go.
Living close to the Central West End MetroLink Station means Jeremy can use that station as his launching pad to head west to visit his parents, or to rediscover the area.
"I love using public transit and biking, and it is fun to do that in the city I grew up in."
He also appreciates that he can count on Metro to be on time. "The punctuality is astounding. I just always know when it is going to be there, and if it is late, the communication is really good, too."
Jeremy knows how important public transit is for the region. Especially for people that don't have a car, Metro Transit provides access to different parts of the city, essential services and jobs.
"Public transit provides a low-cost way to get from point A to point B. A good public transit system shows that a city cares about its people and its people's job security."
Riding public transit also helps Jeremy connect with his city.
"It provides a unique snapshot of life because there are so many different people that take Metro that you don't get exposed to if you are just driving around everywhere."
And for any riders that are like Jeremy and enjoy biking, learn how you can combine the Metro Transit system with our area's network of trails here.
Check out our Q&A below to learn more about Jeremy.
---
What are 3 words to describe Metro?
Punctual, clean, invigorating.
What is your favorite way to spend your commute?
I usually listen to music or I will bring a book.
What is one thing on your bucket list?
I definitely want to go skydiving at some point in the near future.
Do you remember where you went the first time you rode Metro?
I biked to Shrewsbury-Lansdowne I-44 Station and I took MetroLink down to the Central West End to where I was going to be living – that was a really exciting time.
Do you have advice or tips for someone who is new to the system?
A lot of the stops are tucked out of the way and I didn't know existed until a couple months ago when I started riding. So for new riders, know that it really does cover a lot of ground.
---
When we were talking, Jeremy also mentioned how nice it is to have heaters on our MetroLink platforms. With the weather we have been having – we agree! You can learn about those heaters here.
Passengers like Jeremy rely on Metro Transit to get to work, school and other important destinations. We want to hear your transit story. Email us and we may share your story in a future Passenger Profile.
Return to Blog
Categories:
Metro Lifestyle