July 15, 2015
Passengers, like Jim, depend on Metro transit to get to work, school and other important destinations. We hope you enjoy his story, and we're interested in your transit story too. Email [email protected], and we may share your story in a future "Passenger Profile" blog.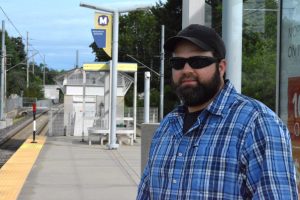 Work and school are one and the same for Jim. He not only has a job at Southwestern Illinois College, but he's also taking classes there, and relies on MetroLink during the week.
To get to campus, Jim boards a Red Line train at the Belleville MetroLink Station and rides the train for a short five minutes before exiting at the College MetroLink Station. Jim is studying computer information systems and has another year and half left before he receives his degree. While Jim works toward that degree, he won't have to worry about transportation costs. That's because the university picks up the transit tab for its students, faculty and staff.
Southwestern Illinois College is part of Metro's U-Pass program, where the school pays for all or part of the pass for their students. Other area universities that are part of the U-Pass program include the University of Missouri-St. Louis, Washington University and Webster University.
Jim has been riding MetroLink since 2001, when the light-rail system expanded eastward into Illinois. That's when Metro began operation of the St. Clair County MetroLink Extension, serving eight new MetroLink Stations from 5th & Missouri in East St. Louis to Southwestern Illinois College in Belleville.
"For me being an employee and a student, receiving transit free of charge is a great benefit, you can't beat it," he said. "Compared to driving, it's less stressful."
Return to Blog