November 4, 2015
Passengers, like Joshua, depend on Metro transit to get to work, school and other important destinations. We hope you enjoy his story, and we're interested in your transit story too. Email [email protected], and we may share your story in a future "Passenger Profile."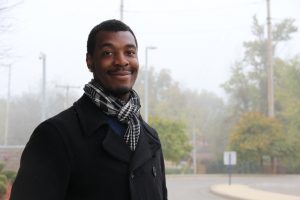 Joshua has quite the tall order planned after he completes a few classes at Southwestern Illinois College (SWIC) — and Metro is helping him get closer to achieving his plans.
Joshua, who's a former basketball player and almost 6 feet 9 inches tall, plans to open his own business. He's still evaluating his options on what that business will be — it could be managing an international basketball team or opening a bike shop. But, he knew he needed to sharpen his business skills, the same way a basketball player conditions for a big game, and that's why he started taking classes as SWIC in January.
"I want to expand my mind and expand my horizons," Joshua said. "I want to learn about new innovations."
Joshua relies on Metro to move him closer to his goals. His normal commute starts by boarding the #6 Rosemont-Fairmont City and riding the bus to the Jackie Joyner-Kersee Center MetroLink Station. There, he boards an eastbound Red Line train to the College MetroLink Station where SWIC is located.
"It's a nice commute," he said. "It's calming, informative and an all-around good ride."
Joshua, who's been riding Metro for about 17 years, advises new riders to pay attention to signs on MetroBus and MetroLink, and to always ask the operator if you have any questions.
"The bus operators are there to help you," he said. "They'll get you where you need to go."
Return to Blog