October 22, 2014
Thousands of customers depend on Metro transit every day to get to work, to school and other important destinations. Today's "Passenger Profile"  features Justin. We're interested in your transit story too. Email me at [email protected] and we may share your story in a future blog.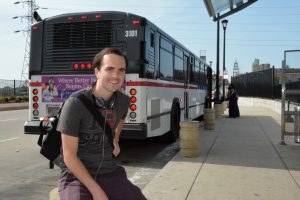 As a Web designer, Justin can pretty much set up shop wherever his clients are located. To get to his various "offices," Justin chooses Metro.
There's not a specific bus route he takes on a daily basis, rather it depends on what he's got going on during the day or month. His favorite bus route though is the #70 Grand.
"I love how busy it is and the amount of people who ride it," he said. "It's neat to see the hustle and bustle of the city. I love how frequently it travels too."
Justin has been transit-dependent for eight years now. In the beginning, when he was studying at Webster University, he couldn't afford a car. Fast-forward to today, and Justin could buy a car if he wanted to, but that would mean monthly car payments, maintenance costs and gas expenses.
Justin said it's absolutely doable to live a no-car lifestyle in St. Louis, but you have to do your homework first.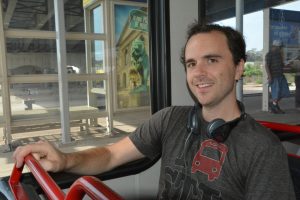 "You definitely want to be prepared," he said. "It's always better to be at a bus stop earlier than later. Bring a bag if you know you'll be carrying stuff for the day and keep an eye out on the weather."
In addition to using public transportation to get to and from work, to accomplish errands and visit friends, Justin also brings his love for public transportation out on dates with him, well sort of.
His friends call these transit-oriented dates "Gold Line Dates" as many dates involve the #1 Gold Line. These dates usually involve some sort of transit either before a date or as a means to get to a date. So far, these Gold Line Dates are working well.
"It makes the date better," Justin said.  "Plus, riding transit is a big part of my life. These kinds of dates allow me to share a big part of who I am."
Justin advises those who are new to public transportation to utilize all the free tools available. For instance, take advantage of Google Maps.
"It's a lot easier than you think," he said. "Go for it."
Return to Blog