July 1, 2014
Thousands of customers depend on Metro transit every day to get to work, to school and other important destinations. Today, we are sharing Justin's transit story as part of our "Passenger Profile" feature. We're interested in your transit story, too. Email me at [email protected] and you may be featured in a future "Passenger Profile" blog.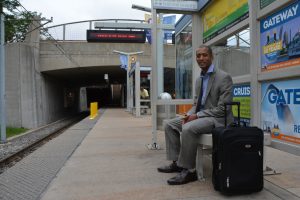 A business trip for Justin doesn't start in an airport terminal, but near an historic train landmark – Union Station – at the Union Station MetroLink Station.
For the most part, Justin uses MetroLink as his way to get to and from Lambert-St. Louis International Airport from his loft off Washington Avenue. Once or twice a month, he boards a westbound Red Line train to Lambert and makes the 30 minute journey west.
While aboard the train, Justin prepares for his flight. He catches up on emails, makes sure his dinner plans are set and double checks that his boarding pass is downloaded and ready to go.
Justin said the main reason he chooses MetroLink is the cost-saving factor. Even though his company is paying for his travel, he's still saving them money by not having to pay for parking fees or a taxi service. Also, he said it takes about the same time to drive to the airport as it does taking a train. However, Justin said using transit is a more comfortable and safer alternative.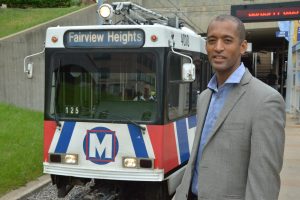 Justin recommends riders try and keep their luggage to a maximum of two bags. Also, he said remember to not block the aisles and doors.
The trips to the airport have also have raised his awareness about visitors using transit while in St. Louis. He was surprised at first to see tourists from all over the country and even from several parts of the world visiting St. Louis and using MetroLink.
"I'm a people watcher," he said. "You never know who is going to be on the train."
In addition to travel, Justin also has used MetroLink to get to Forest Park and downtown for the Go! St. Louis Marathon.
As far as advice, Justin recommends first-time riders to experience the Metro system with no preconceived notions.  Also, know where you're going, he said.
"And don't ride with your headphones. It's more interesting to hear everyone else", he said.
Return to Blog