August 25, 2021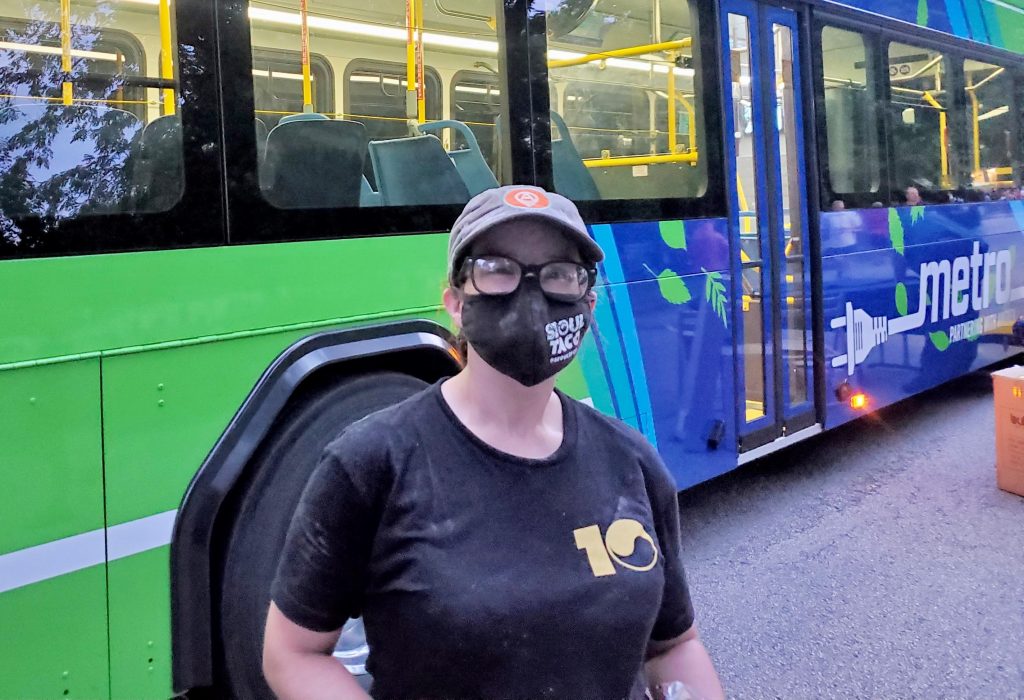 Kayle has been riding Metro every day for 6 years. She often rides the MetroLink Blue Line and the #8 Shaw-Cherokee to visit South Grand, Tower Grove Park, the Missouri Botanical Garden and the Grove. She also enjoys riding the new fleet of electric buses, which you can find on the #70 Grand and various MetroBus routes throughout Missouri.
Kayle uses Metro to get to her job at the hip local restaurant Seoul Taco. She said many of her co-workers use Metro to get to their locations in the Grove, University City and even the Chesterfield location (served by #91 Olive).
Check out our Q&A below to learn a little more about Kayle.
---
What do you like about Metro?
I appreciate how Metro is handling COVID-19 right now. The drivers are really good about enforcing masks – they don't want passengers riding without masks and neither do I! Security has been great about handing out masks to riders instead of just kicking them off the train – that has been great too.
What would be your dream vacation?
I'd love to go to New Zealand! My favorite sport is rugby and I used to play in high school, so I'd love to watch some rugby while I'm there!
---
The trains and buses are a great way to get around town safely, conveniently and comfortably! With our new $5 Day Pass, you can enjoy unlimited rides on MetroBus and MetroLink for an entire day – at one great low price.
And as Kayle mentioned, our team has been committed to keeping the region moving throughout the pandemic. You can learn about our efforts here.
Passengers like Kayle rely on Metro Transit to get to work, school and other important destinations. We want to hear your transit story. Email us and we may share your story in a future Passenger Profile.
Return to Blog
Categories:
Metro Lifestyle