August 27, 2014
Thousands of customers depend on Metro transit every day to get to work, to school and other important destinations. Today's "Passenger Profile"  features Kelly. We're interested in your transit story too. Email me at [email protected] and we may share your story in a future blog.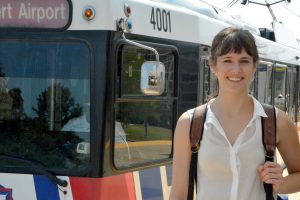 Kelly's commute on MetroLink only takes a few minutes, but it's necessary if she wants to get to class on time.
Her journey to the University of Missouri – St. Louis campus starts by driving to the Delmar Loop MetroLink Station. From there, it's a short eight minute ride to the UMSL North MetroLink Station. Kelly said taking the train allows her to avoid traffic, road construction and searching for a place to park.
"There's usually a lot of traffic," she said. "MetroLink is a lot faster."
Kelly started using MetroLink in 2006 when the Blue Line from the Forest Park-DeBaliviere Station to the Shrewsbury Lansdowne I-44 Station opened. At that time, Kelly lived in Shrewsbury and would hop on the train to attend events downtown or go shopping at the Galleria.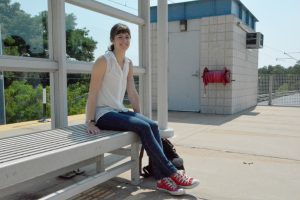 "Anytime I don't have to drive is awesome," she said.
On the train, Kelly is usually in her own world. She also appreciates the community advertisements that promote local resources and organizations. She enjoys the art installations at various MetroLink Stations too.
Kelly is currently a graduate student studying criminology. As an UMSL student, Kelly receives a customized U-Pass that allows her to ride the Metro system free of charge.
As for advice to newcomers, Kelly said it's always a good idea to be aware of your surroundings at all times. However, don't let fear be a reason not to give public transportation a try, she said.
Return to Blog