June 3, 2015
Customers, like Lakeisha, depend on Metro transit every day to get to work, school and other important destinations. We hope you enjoy her story, and we're interested in your transit story too. Email [email protected], and we may share your story in a future "Passenger Profile" blog.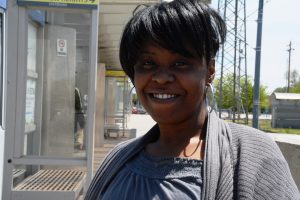 Lakeisha has been a Metro customer since she was five years old. She remembers when buses used to have long, cushy bus seats.
"Oh, I remember those seats," she said. "In the summertime, those seats showed no mercy. Even with the air on, we'd sweat. I'm glad they got rid of those seats."
While those seats are long gone, Lakeisha continues to ride. She uses MetroBus and MetroLink to move her and her children around the St. Louis area. No attraction is out of reach. They use Metro to go bowling, skating, to the St. Louis Zoo, the City Museum and Dave & Buster's.
"It's better than driving," she said. "You don't have to deal with traffic or worry about gas."
In addition to visiting attractions around town, Lakeisha also rides Metro to get to and from work. For her regular commute, Lakeisha boards a MetroLink train at the Emerson Park MetroLink Station and takes it to the Grand MetroLink Station. From there, she takes the #70 Grand bus to work. So far, she's impressed with the Agency's articulated buses.
"We call them the double-dutch bus," she said. "I like them. I wish they were on a lot more bus lines."
Lakeisha said her number one reason for choosing Metro is cost efficiency.
Lakeisha may read a magazine or play games on her phone when she's riding MetroBus or MetroLink. However, what she enjoys most about her commute is being able to turn every trip into a learning experience for her children.
"We sightsee and spot things as we pass by," she said. "We find something green or find something brown. Every trip is an opportunity to discover something new."
Return to Blog