June 17, 2015
Customers, like Laronica, depend on Metro transit to get to work, school and other important destinations. We hope you enjoy her story, and we're interested in your transit story too. Email [email protected], and we may share your story in a future "Passenger Profile" blog.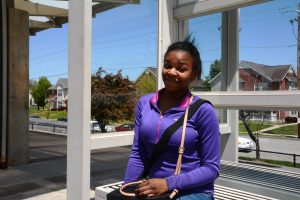 Laronica relies on MetroBus and MetroLink to get to school three days a week.
To get to Southwestern Illinois College, where Laronica is studying to become a marriage counselor, she boards the #8 Alta Sita and rides to the Emerson Park MetroLink Station. From there, she boards an eastbound Red Line train to the College MetroLink Station.
She said her commute takes about 30 minutes, enough time to listen to music or finish any last-minute homework.
"Since I have 30 minutes to get to school, I have 30 minutes to study," she said.
Laronica said it would be much harder to get to school without MetroBus and MetroLink. Plus, by using public transportation, she's able to save her pennies.
"I'm working and saving for a car," she said. "So I'm relying on the train and bus to get me where I need to go. So far, it's been working out pretty good."
Laronica has been riding with us for less than a year, but was able to figure out the transit system pretty quickly.
"It wasn't hard at all, it just takes a little planning," she said. "It's pretty reliable."
Return to Blog