February 25, 2015
Thousands of customers, like Lauren and Carter, depend on Metro transit every day to get to work, to school and other important destinations. We hope you enjoy their story and we're interested in your transit story too. Email  [email protected] and we may share your story in a future "Passenger Profile" blog.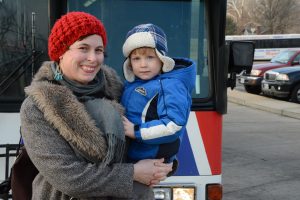 When Lauren and her family were searching for a home in St. Louis, one requirement was near the top of their list – their home needed to be near transit.
"We had one car in Columbus, Ohio where we used to live," she said. "We didn't want to add another car when we moved here."
Their home search proved to be successful, and they're still a one-car family.
"It's been great," she said.
Lauren travels to work with her three-year-old son Carter on public transportation about three days a week. They board the #2 Red MetroBus near the Schnucks on Olive Boulevard in University City and take it to the Rock Road MetroLink Station. From there, they ride MetroLink to the UMSL-South MetroLink Station. Their entire commute takes about 25 minutes.
Most days, Lauren and her son look out the window and talk about what they see. Their commute gives her time to explore and be with her son.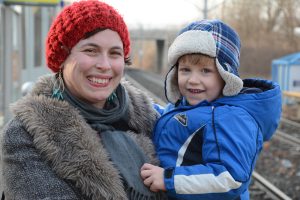 "It surprises me how easy Metro transit can be, even with a toddler along," Lauren said. "I think people assume it will be too hard, but you make it work and come to enjoy it in the process."
Lauren and Carter chat with riders they see on a regular basis, and they've made a few friends – including a MetroBus operator.
"I remember Mr. Henderson, who used to drive the #2 Red route," she said. "He gave me a goodbye gift when he changed routes. We miss him. He made our commute everyday more fun."
Lauren did her fair share of research before hopping on Metro transit. She scanned our website, looked at several route maps and learned where each bus went. She also did a test run before putting her commute into action.
"Explore before you use it on an everyday basis," she said. "Pick a train station that's close by and visit a restaurant. It's very convenient."
Return to Blog