November 18, 2015
Passengers, like Leah, depend on Metro transit to get to work, school and other important destinations. We hope you enjoy her story, and we're interested in your transit story too. Email [email protected], and we may share your story in a future "Passenger Profile."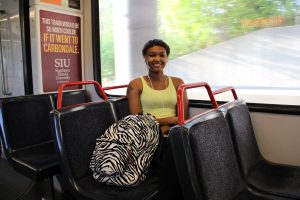 Leah admits she was hesitant about boarding MetroLink for the first time, back when she was 14 years old.
"My sister wanted to take me out to a movie and dinner and I said, 'How are we going to get there? Do you have a car?' She said, 'No, we're catching Metro.'"
"I was terrified," Leah remembered. "I thought we were going to fall into the river and I had a hard time keeping my balance, but it was a fun experience and I quickly learned how to ride."
Fast forward six years and Leah has mastered how to successfully navigate both MetroLink and MetroBus. In fact, MetroLink is her primary mode of transportation to get to and from Southwest Illinois College (SWIC) in Belleville each week.
To get to school, Leah boards the #1 Main Street-State Street in East St. Louis and rides the bus to the Fairview Heights MetroLink Station. From there, she boards an eastbound Red Line train to the College MetroLink Station, which serves SWIC.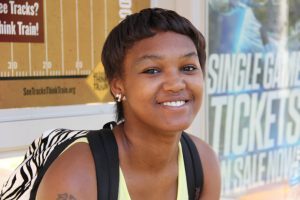 Leah is studying business and accounting at SWIC and has a year and half left in her two-year program.
"It's better to rely on Metro than rely on someone else and missing out on something you have to do," Leah said. "Metro helps me manage my time."
Leah said Metro provides the necessary link to earning her degree.
"If we didn't have Metro, I don't know what we would do," she said.
Leah advises those new to Metro, or anyone considering using Metro for the first time, to grab a bus or train schedule or download the Metro On The Go app to their phone. But more importantly, she encourages new riders to reach out to Metro operators or even other passengers for help.
"Never be afraid to ask someone where you need to go," she said.
Return to Blog