January 21, 2015
Thousands of customers, like Lee, depend on Metro transit every day to get to work, to school and other important destinations. We hope you enjoy his story and we're interested in your transit story too. Email  [email protected] and we may share your story in a future "Passenger Profile" blog.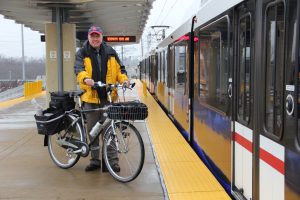 Lee was waiting for the day when MetroLink would be closer to his doorstop. That day came in 2006, when Metro opened the Cross County MetroLink Extension.
Before the expansion, the nearest MetroLink station to Lee's home in Webster Groves was almost 10 miles away. Now, a MetroLink station is only four miles away.
"It was finally convenient," Lee said.
On nice days, Lee enjoys riding his bike from his house to either the Sunnen Station or the Shrewsbury-Lansdowne I-44 Station. He takes the train to downtown St. Louis and gets off at either the Stadium Station or Civic Center Station. From there, he's only about three blocks from his office on Market Street. Lee tries to take MetroLink to work two to three times per week.
While on the train, Lee enjoys reading the newspaper or catching up on emails. Lee, an attorney, also may scan over a few documents before heading into the office.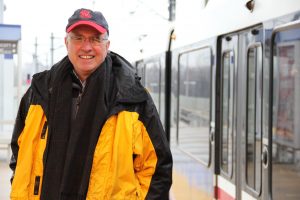 "I try to be as productive as I can," he said.
Lee said he chooses to ride MetroLink because it not only cuts down on air pollution, but also cuts down on road congestion and he's able to put less miles on his car. Another added perk?
"When I ride my bike, I do get some exercise," he said.
Return to Blog