March 2, 2016
Passengers, like Leon, depend on Metro transit to get to work, school and other important destinations. We hope you enjoy her story, and we're interested in your transit story too. Email [email protected], and we may share your story in a future "Passenger Profile."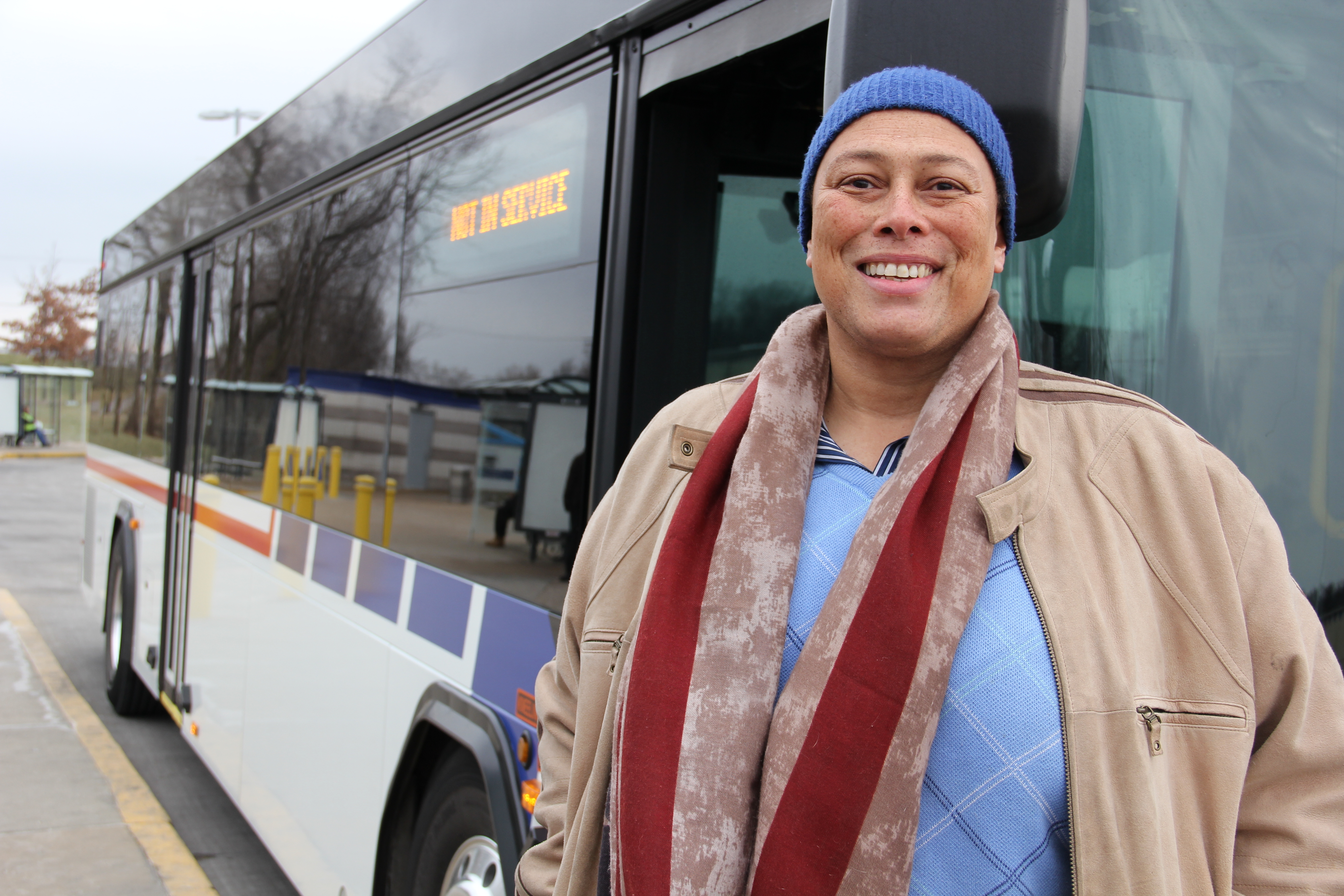 For a passenger who's been riding Metro since 1983, it's no surprise that Leon has a few interesting transit stories up her sleeve. Mix in a love for writing, a knack to socialize and a bit of social media spice, and you've got the makings of a great blog ─ or in her case, a series of Facebook posts.
A lot of the material for these tales comes from her regular daily commute, which usually involves the #35 Rock Road and the Rock Road MetroLink Station. From there (depending on the tasks of the day), Leon will board the #32 ML King-Chouteau to head to work or use MetroLink to catch the #74 Florissant, #41 Lee or #94 Page at the Civic Center Transit Center. Leon said her commutes take anywhere from 20 minutes to an hour.
Public transportation is vital for a community to thrive and is particularly important to those who don't have a means to fund a car, Leon said. Even more, car ownership comes with additional costs beyond gas, including insurance and taxes.
"With Metro, people are able to get around town without breaking the bank," she said.
While on the bus or train, Leon usually checks email or scans through social media. However, what she likes most about her transit commute is people-watching. This is where her best material comes from. Here's a recent posting from her Facebook page:
A few weeks ago I was on the #70 Grand on my way to a go-see, and I boarded a very crowded bus and had to stand. Seated beside me was an elderly gentleman who had been to Schnuck's and was on his way home. His groceries were in one of those two-wheeled wire carts. As we were approaching his stop, he asked me if I would pull the stop cord for him. I did. When the bus came to a complete stop, he had trouble getting up so I asked him if I could help him. He said that would be fine. Nowadays you have to be careful before you just go touching people. I told him that I would roll his cart out on the sidewalk and then come back to help him up. He again said that was ok. I rolled his cart out and then went to help him out of his seat. Granted, the entire bus was full and no one seemed bothered that this fragile, shaky, elderly gentleman needed assistance. However, as I was helping him up, a young Caucasian male came from the back of the bus to give me a hand. We gently helped him off the bus and made sure he was ok to proceed home. He assured us he was and thanked us for our help. As we were getting back on the bus, the young Causasian man give me a fist bump and said, "I see you were raised right." I replied to him, "I see you were too" …
"Every passenger is unique in their own way," she said. "Everyone has their own story to tell."
Return to Blog
Categories:
Metro Lifestyle