November 5, 2014
Thousands of customers depend on Metro transit every day to get to work, to school and other important destinations. Today's "Passenger Profile"  features Lisa. We're interested in your transit story too. Email me at [email protected] and we may share your story in a future blog.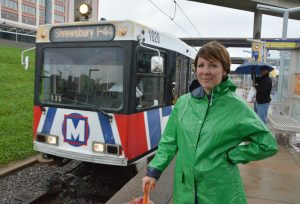 This past winter, Lisa was in an accident that totaled her car.
While Lisa had been using public transportation prior to the accident, it took this life-changing moment to make a life-changing decision. After the accident, Lisa decided to ditch the car for good, relying only on public transportation and her bike. The accident may have expedited Lisa into the no-car lifestyle, but it's a change she has fully embraced.
"It's a better solution to curb pollution and congestion," she said.
In addition to being a sustainable option, Lisa said public transportation can also be a driver for the region. Public transportation connects people with jobs, schools and community events, she said. She also doesn't have to worry about finding a place to park, driving in general or road rage.
"You don't have to worry," she said.
Lisa's commute begins by boarding the #30 Soulard in the Tower Grove South neighborhood. She rides the bus to Washington Avenue where she works for Citizens for Modern Transit. If she's not on the #30 Soulard, Lisa can walk a few blocks and catch the #10 Gravois-Lindell and take that to the Civic Center MetroLink Station or board the #70 Grand to the Grand MetroLink Station.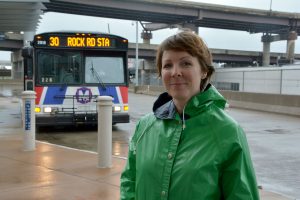 In addition to working at Citizens for Modern Transit, Lisa is also an adjunct professor at the University of Missouri – St. Louis. To get to the campus, Lisa bikes to the Forest Park-DeBaliviere MetroLink Station or to the Central West End MetroLink Station and takes a Red Line train to the UMSL North MetroLink Station.
Lisa started riding the #70 Grand MetroBus when she was a student at UMSL back in 2008. Around that time, Lisa remembered one experience on the #70 Grand that made her feel right at home.
"I was on my way to UMSL and a woman asked me how to get somewhere and what stop she should get off at," Lisa said. "I was able to tell her the correct location. That was a huge victory for me."
Lisa's advice to new riders is to not be afraid. If you have a question, all you have to do is ask.
"Ask the bus driver or a fellow rider," she said. "The bus drivers are incredibly helpful."
Return to Blog