October 29, 2014
Thousands of customers depend on Metro transit every day to get to work, to school and other important destinations. Today's "Passenger Profile"  features Lynn. We're interested in your transit story too. Email me at [email protected] and we may share your story in a future blog.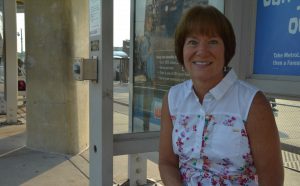 Lynn first hopped on a MetroBus vehicle in Illinois back in 1980 and she says a lot has changed since then.
She would catch an express bus from Belleville and ride it to where the 5th & Missouri MetroLink Station is today. She said the buses back then were not always comfortable.
"We'd get in there and we'd want to sit in the back seat or whatever and sometimes the fumes would get to you or the air conditioning wasn't working," she said. "The buses are a lot better now, a lot nicer."
Today, Lynn doesn't commute to work by taking the bus, instead she rides MetroLink. She either boards the train at the Belleville or 5th & Missouri MetroLink Stations. From there, she gets off the train at the Convention Center MetroLink Station and walks to her office downtown.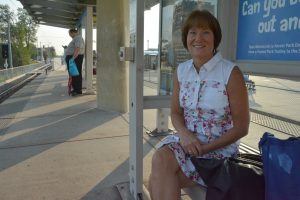 In addition to using MetroLink for her commute to work, Lynn also takes the train to Lambert-St. Louis International Airport when she leaves town on trips. She's also taken MetroLink to get to baseball games and to Fourth of July celebrations.
She chooses to take MetroLink because she believes in trying to save gas and to save wear and tear on her car.  She also enjoys the convenience it brings to her life.
On the train, Lynn likes to listen to music or read a book.
"I just sit back, relax and enjoy it", she said.
Return to Blog