August 20, 2014
Thousands of customers depend on Metro transit every day to get to work, to school and other important destinations. Today's "Passenger Profile"  features Maria. We're interested in your transit story too. Email me at [email protected] and we may share your story in a future blog.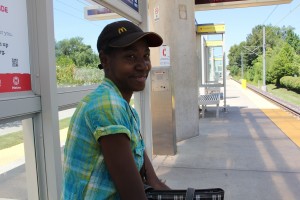 Maria's trip back and forth between the Belleville MetroLink Station and the Washington Park MetroLink Station is a short one, but it's one she does every other day.
For six months now, Maria has been taking MetroLink to visit her daughter. She said riding the train is faster, more convenient and relaxing.
While Maria doesn't use Metro to commute to and from work anymore (she's retired), she depends on MetroLink and MetroBus for transportation to take care of her errands during the day.
Since 2009, Maria has used the #1 Main Street – State Street in Illinois to accomplish her errands. She also uses this bus route to go to doctor's appointments.
"I really don't have to go too far," she said.
Once a month, Maria uses MetroLink to cross into Missouri to visit a food pantry off of Grand. To get there, she boards a Red Line train at the Belleville MetroLink Station and exits at the Grand MetroLink Station. She then takes the #70 Grand Line to the food pantry.
Maria enjoys sitting on the train and looking at the scenery. She also enjoys reading the information inside the train.
"I like sitting in the front," she said. "I like to relax and enjoy the ride."
Return to Blog