January 19, 2016
Passengers, like Marjorie, depend on Metro transit to get to work, school and other important destinations. We hope you enjoy her story, and we're interested in your transit story too. Email [email protected], and we may share your story in a future "Passenger Profile."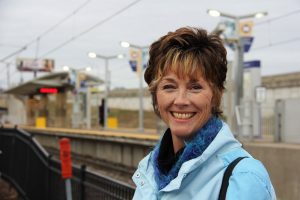 When the region was dotted with 250 special cake sculptures to celebrate the 250th anniversary of the founding of the City of St. Louis, Marjorie was determined to visit them all.
Her goal was to search for them one-by-one, mostly by bicycle. But it wasn't all done on a bike or by foot. She relied on MetroLink to give her a lift from time to time. In the end, Marjorie put in about 1,700 miles to visit all the cakes.
"A small group of cyclists took MetroLink all the way out to the Shiloh-Scott MetroLink Station to visit a cake there," she said. "We also used MetroLink to visit a cake at the Jackie Joyner Kersee Center MetroLink Station and one in East St. Louis."
With all the cakes discovered, Marjorie shifted gears to using MetroLink as part of her regular cycling regiment. A normal outing includes boarding a train (with her bike) at the North Hanley MetroLink Station with her cycling group and riding the train to the trails in Illinois. MetroLink comes in handy during workouts that suddenly turn rainy or if they need time to take a breather.
"MetroLink is always kind of our sag wagon," she said. "If we get too tired or we want to avoid the rain, it's always got our back."
(For those who are not familiar with bike jargon, a sag wagon is usually a support vehicle that follows a group of cyclists and may pick up riders who are unable to continue.)
In addition to acting as a safety net for her workout routines, Marjorie also has used MetroLink to travel downtown to catch a Cardinals or Blues game.
"I don't have to worry about parking," she said.
Marjorie also chooses MetroLink for its stress-free qualities.
"I don't find riding in a car relaxing," she said. "On MetroLink, you can engage with your friends and not have to worry about driving."
Return to Blog