July 23, 2014
Thousands of customers depend on Metro transit every day to get to work, to school and other important destinations. Today, Matthew's story is our featured "Passenger Profile."  We're interested in your transit story too. Email me at [email protected] and we may share your story in a future blog.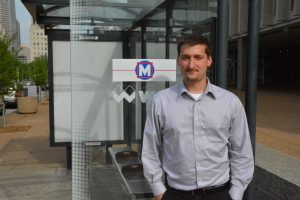 It took a particularly bad travel experience in Washington, D.C. for Matthew to ditch the car and devote much of his commute to public transit.
He remembers being in his car and having to wait at the same intersection for 25 minutes.
"At that moment, I told myself that I didn't want a car," he said. "Living in D.C. really opens your eyes to transit, specifically hating driving."
Matthew has stayed true to that commitment here in St. Louis. He takes the #11 Chippewa from his home in the Benton Park neighborhood to work downtown. He said it's about a 15 minute ride.
Matthew occasionally takes MetroLink to attend social events, such has Happy Hours in the Central West End.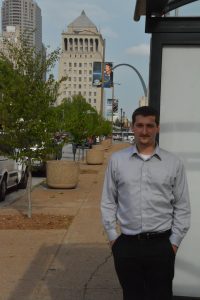 Matthew knows the importance of public transportation and its role in the overall urban landscape. He studied urban planning at Saint Louis University and went on to further his study in urban and regional planning in New Orleans.
"That's where I learned how transit works and the importance of transit in the urban ecosystem," he said.
Matthew lives in a one car household; however, he doesn't use the car often. He said it's easy to avoid using a car and said the cost savings related to not owning two cars has allowed him to save up to buy a house.
"It's really helped me redistribute my income so that I can buy locally and help local businesses," he said.
While on the #11 Chippewa, Matthew stays glued to his cell phone screen. If he chooses a different, unfamiliar route, he enjoys looking out the window and observes the surroundings both in and outside the bus.
"I always enjoy how other passengers care for others on the bus, how they look after people if they're running late," he said."You never get that in your own private vehicle."
Return to Blog