February 18, 2015
Thousands of customers, like Mechie, depend on Metro transit every day to get to work, to school and other important destinations. We hope you enjoy his story and we're interested in your transit story too. Email [email protected] and we may share your story in a future "Passenger Profile" blog.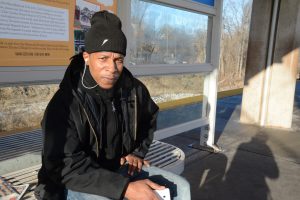 Mechie first started using Metro when the MetroLink light rail system opened on July 31, 1993 — and he hasn't stopped using it since then.
Each day, Mechie starts his work commute with the #1 Main Street-State Street MetroBus and rides it to the Fairview Heights MetroLink Station, where he connects with another bus to get to his job.
In addition to going to work, Mechie regularly uses a combination of MetroBus and MetroLink to go shopping, pay his bills and run errands.
"MetroBus and MetroLink take me anywhere I need to go," he said.
Mechie said using public transit is a convenient option, and he's able to save money on gas. While he often uses it to take care of everyday business, he also said he does cross the Mississippi River every once in a while to catch a Cardinals game.
As for recommendations for those new to transit, Mechie's advice is simple, but important.
"Make sure you remember the schedules," he said, "Cause you don't want to miss the bus."
Return to Blog