June 25, 2014
Thousands of customers depend on Metro transit every day to get to work, to school and other important destinations. Today, we are sharing Megan's transit story as part of our "Passenger Profile" feature. We're interested in your transit story, too. Email me at [email protected] and you may be featured in a future "Passenger Profile" blog.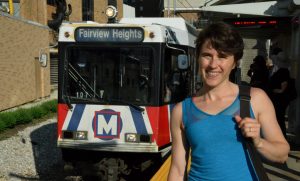 Megan is not a fan of long commutes nor is she a fan of driving. Luckily, Metro transit has her covered.
Megan walks a half mile from her home in the Lafayette Square neighborhood to the Union Station MetroLink Station, boards a train and gets off at the Central West End MetroLink Station. Her commute takes only five minutes.
When Megan and her husband decided to move closer to downtown St. Louis, being near a MetroLink station was important to them.
"I wanted to be close to work and have a short commute," she said. "It's easy to get on the train."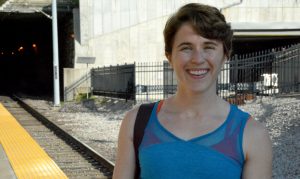 In addition, taking Metro also saves Megan and her husband money on everything from car maintenance to gas. Also, since both of them are Washington University employees, they receive their Metro passes free of charge.
The walk to and from stations provides Megan with time outside. If she wants a more intense workout, Megan takes the train to Forest Park where she can jog a few miles. She also uses MetroLink to join up with her running group at Big River Running Co. in University City.
Megan catches the train when she needs to travel to the airport and she also takes it to run errands, such as getting her hair cut in Clayton.
She said it's fun to be on the train during large-scale events such as Cardinals games or when a big race is happening downtown.
"It's like there's a runner party on the train the morning of a race," she said. "That's kind of cool."
Return to Blog