October 7, 2020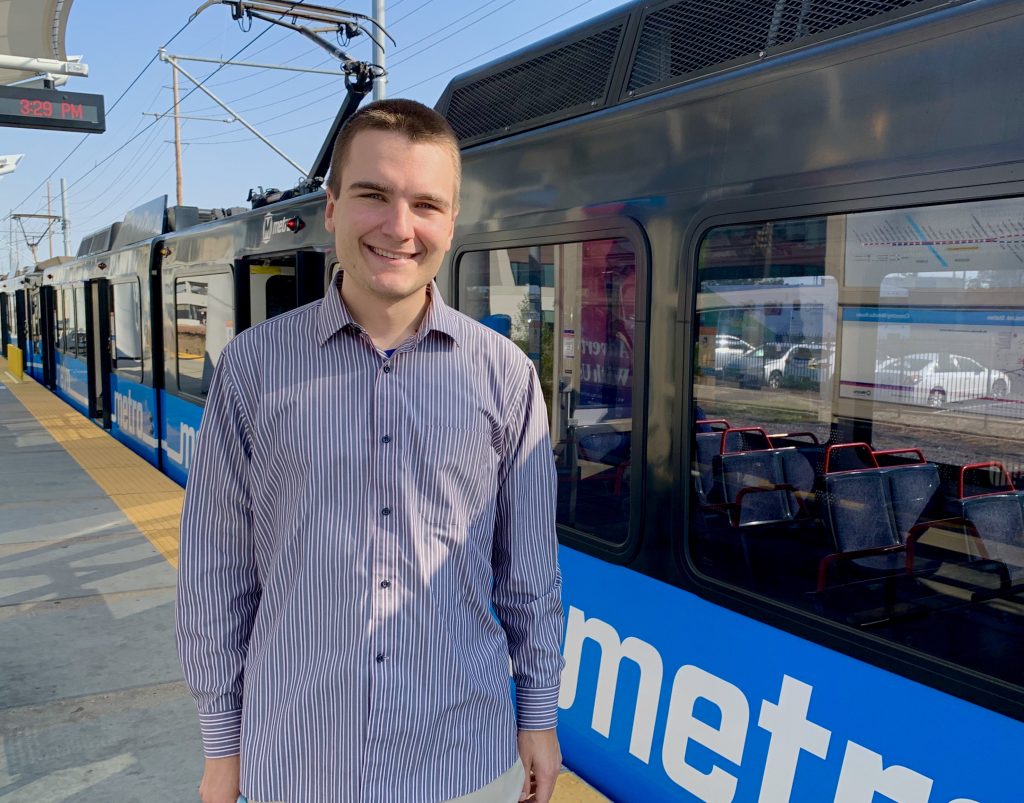 Nick has used public transportation all over the world. Now that he's in St. Louis, he's happy that he can rely on the Metro Transit system – for its convenience and environmental sustainability.
Originally from Germany, Nick moved to St. Louis in August 2017 to attend Saint Louis University for his PhD. Nick doesn't own a car, so he uses MetroLink and the #70 Grand MetroBus to get everywhere he needs to go.
Nick finds that most of the places he wants to go are very easily accessed by MetroBus and MetroLink. He takes the bus to South Grand for good restaurants, and also hops on the train to quickly get to the Delmar Loop, Forest Park, St. Louis Galleria, to downtown for the Amtrak station, or to the airport.
Nick not only enjoys the convenience of Metro Transit, but also the friendly interactions he has with our Metro team.
"There are always bus drivers that greet you very nicely when you enter the bus. There is also a custom of saying goodbye to the bus driver, and they say goodbye to you … it creates a really nice atmosphere."
Nick also knows that he can rely on Metro Transit, and is impressed with how consistently on time MetroLink trains are and the accuracy of our transit alerts and information – even in comparison to transit systems throughout the world.
"One thing that really stands out, even internationally, with other transit systems is the punctuality of MetroLink. I remember maybe one or two cases when trains were not on time. Almost any other transit system you expect delays."
Nick wants to see public transportation in the U.S. utilized more, and to become a more integral part of cities. He thinks St. Louis has a strong transit system and wants to see more people be open to riding public transit. If you have not traveled with us before, check out tips on how to ride: metrostlouis.org/how-to-ride
Check out our Q&A below to learn more about Nick.
---
What are 3 words to describe Metro?
Modern, accessible and underrated.
Have you noticed the changes to our Public Safety efforts?
There was never really a time when I would say I would not take Metro because I would feel unsafe.
There was a time when suddenly there were more security personnel on the platforms and riding on the trains. There would be cases when people, for example, would start smoking, listening to loud music or arguing … and things like that have become far, far less.
What do you like most about the bi-state region?
St. Louis being at the intersection of all the different regions in the U.S. makes it fascinating and more diverse than other cities. St. Louis is a little bit of everything. I really enjoy it here – it is a great place to be.
What is your favorite way to spend your commute?
Usually I listen to audiobooks or podcasts.
What is one thing on your bucket list?
One thing that I was looking forward to was visiting Alaska, and I had everything booked for this summer. But then of course because of COVID that had to be postponed. So maybe in a future summer it would be nice to go there.
Do you have advice or tips for someone who is new to the system?
There are now mobile tickets. You can also get real time information using Google Maps.
Hint: if you are going to get a mobile ticket through the Transit app, you can also get real-time information on your MetroBus there!
Nick also shared with us how helpful the information displayed at stations and inside the buses and trains is – so the next time you ride, check out our new mobile fares and be on the lookout for the latest route and schedule changes, rider alerts, or information to keep you safe during COVID.
---
Passengers like Nick rely on Metro Transit to get to work, school and other important destinations. We want to hear your transit story. Email us and we may share your story in a future Passenger Profile.
Return to Blog
Categories:
Metro Lifestyle