December 24, 2014
Thousands of customers depend on Metro transit every day to get to work, to school and other important destinations. Today's "Passenger Profile"  features Nick. We're interested in your transit story too. Email me at [email protected] and we may share your story in a future blog.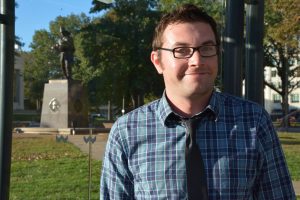 Nick has been using public transportation since he was 13 years old, using the bus to get to school at Saint Louis University High.
Today, Nick is living a car-free lifestyle. He decided to make the move about a year and half ago after growing tired of constantly fixing his car and spending money on maintenance.
He said the best trick to living without a car is understanding what tools you have in front of you. For instance, be aware of your transit options and the capabilities Metro offers. Knowing where specific bus stops are located, times on bus schedules and other important trip information is key.
"It takes a little bit of planning to know exactly where you need to go," he said.
Another transit tip? Make sure you know what you're doing after work so you can prepare your trip accordingly. "A transit app on your phone is always nice to have," he added.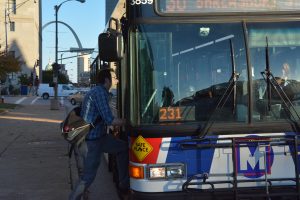 Nick's normal commute starts by boarding the #10 Gravois-Lindell from the Tower Grove South neighborhood. He takes the bus to city hall where he works. On weekends, Nick likes to take the #70 Grand to the Grand MetroLink Station where he catches a Red Line train to the Delmar Loop MetroLink Station.
When he's on the bus or train, Nick usually reads or checks his Twitter feed on his phone. But if he's giving a new bus route a try, Nick will spend more time looking out the window to take in the sights.
With Metro, Nick is able to take advantage of the many benefits of his car-free lifestyle — and enjoy a stress-free commute.
"It has definitely added years to my life," he said. "Plus, I don't have road rage."
Return to Blog