September 23, 2015
Passengers, like Onazia, depend on Metro transit to get to work, school and other important destinations. We hope you enjoy his story, and we're interested in your transit story too. Email [email protected], and we may share your story in a future "Passenger Profile."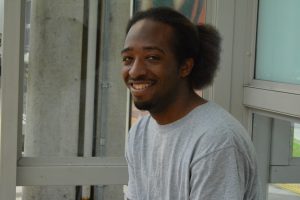 Onazia is a pretty outgoing guy, and he uses his commute on MetroLink and MetroBus to meet people and strike up conversations with fellow passengers.
"We talk about anything really," he said. "It can be about music, games or whatever is in the news that day."
Onazia rides Metro primarily to get to Southwestern Illinois College (SWIC), where he plans to earn his associate degree in applied sciences and one day become a game designer.
To get to school during the week, Onazia boards the #4 19th & Central – ML King MetroBus route in East St. Louis and rides the bus to the 5th & Missouri MetroLink Station. He then boards an eastbound Red Line train to the College MetroLink Station where SWIC's Belleville campus is located.
SWIC participates in Metro's U-Pass program, allowing students like Onazia to use Metro free of charge.
"It's really easy to use and it saves me money," he said.
Since Onazia does not own a car, he relies on Metro not only get to school, but also to attend meetings or check out concerts and other events in St. Louis.
Onazia has been using Metro since he was 12-years-old, and he knows a few simple transit tips. First, make sure you're on time for the bus or train. Also, be friendly.
"I remember my first time riding Metro," he said. "I was looking to go to a particular bus stop, but I didn't know where the stop was, so I had to ask questions and people gave me directions. That was really nice. You meet very helpful people on the Metro."
Return to Blog