May 14, 2014
Thousands of customers depend on Metro transit every day to get to work, to school and other important destinations. We are going to share some of their transit stories as part of a new feature called "Passenger Profile."  We're interested in your transit story too. Email me at [email protected] and we may share your story in a future blog.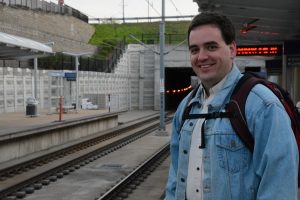 The only time Philip has a chance to listen to his podcasts is when he is on a MetroLink train.
"If I'm not commuting," he said, "I'm not listening. It's a time for me to relax."
Philip either listens to financial or technology podcasts as he makes his way downtown. He typically wakes up around 5:15 a.m., catches a ride from his sister to the Brentwood I-64 MetroLink Station and boards the 6:45 a.m. eastbound train to the Central West End MetroLink Station. If the weather is nice, Philip walks the rest of the way to work.
At the end of the day, Philip leaves the Central West End MetroLink Station, rides the train to the Maplewood- Manchester MetroLink Station and catches the #57 Maplewood-Wildwood home.
Philip started using Metro back in the 90s when he took MetroBus to get to and from Christians Brothers College (CBC) High School (back when it was located in Clayton).
Philip also uses Metro to help save up for another car for his family. His goal is to pay cash for a second car. So far, using Metro has allowed Philip to avoid applying for a car loan.
Philip uses MetroLink every once and a while to catch a game downtown. He also has taken the train to get to the Gateway Multimodal Transportation Center at the Civic Center MetroLink Station. That center has access to Amtrak and Greyhound services.
As for public transit advice, Philip recommends riders review their routes beforehand and understand how much time their trip will take. You can find out how long your trip will take using our Trip Planner.
"Do your research before hand," he said.
Return to Blog