December 17, 2014
Thousands of customers depend on Metro transit every day to get to work, to school and other important destinations. Today's "Passenger Profile"  features Queen. We're interested in your transit story too. Email me at [email protected] and we may share your story in a future blog.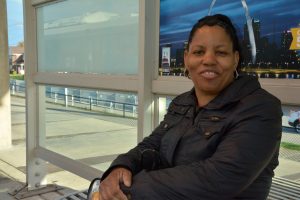 For more than three years, Queen has been making the trip back and forth between Missouri and Illinois.
She works the nightshift at McKnight Place Assisted Living in University City and relies on MetroBus and MetroLink to get her back home.
To get to work, Queen said she's able to get a ride from a family member. The drive home is a different story. To get home, Queen boards the #97 Delmar to the Clayton MetroLink Station. From there, she rides the train to the end of the Blue Line in Illinois at our Fairview Heights MetroLink Station. Her husband picks her up there.
"This is how I've been doing it," she said. "It's been a blessing to me."
Without Metro, Queen said she probably wouldn't be able to work in Missouri.
Queen said Metro is a great way to save gas and to fit in a bit of relaxation. While on the train, she enjoys looking out the window, and occasionally, taking a short nap.
"I enjoy the ride," she said.
Return to Blog