August 26, 2015
Passengers, like Ralph, depend on Metro transit to get to work, school and other important destinations. We hope you enjoy his story, and we're interested in your transit story too. Email [email protected], and we may share your story in a future "Passenger Profile."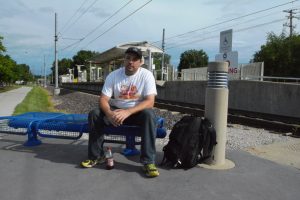 Even though it's more than 15 miles away from Belleville, downtown St. Louis is really only a few blocks away from Ralph's front door.
That's because Ralph lives about five blocks from the Belleville MetroLink Station. From there, he can be downtown in about a half hour.
"It's very handy," Ralph said. "I can do whatever I want over there."
Ralph has been a Metro passenger ever since MetroLink first crossed the Eads Bridge into Illinois in 1993. At that time, MetroLink only went as far east as the 5th & Missouri MetroLink Station.
Since then, the MetroLink map has changed and so too has Ralph's use of Metro. In the past, Ralph used MetroLink primarily to get to work at Busch Stadium. Today, Ralph uses Metro several times a week to visit Forest Park, attend events in downtown St. Louis and enjoy other types of recreational activities in the region.
"I have a vehicle, but I choose Metro because I don't have to worry about driving," Ralph said. "Metro provides me with a relaxed atmosphere, I just pop on my headphones and ride."
Return to Blog