May 21, 2014
Thousands of customers depend on Metro transit every day to get to work, to school and other important destinations. Today, we are sharing Rebecca's transit story as part of our "Passenger Profile" feature. We're interested in your transit story, too. Email me at [email protected] and you may be featured in a future "Passenger Profile" blog.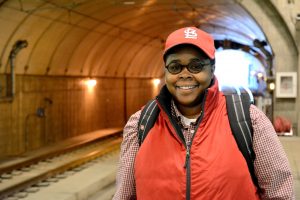 An interesting thing starts to happen when you use public transportation on a regular basis.
You start to notice the same people at your bus stop or MetroLink station. You build up the courage to say hello.  Formal greetings turn into longer conversations, and before you know it, you have yourself a transit buddy or in the case of Rebecca, a transit group.
Rebecca, chief audiologist at the Center for Hearing and Speech, remembers how her transit group was formed. She would board MetroBus with the same group of riders heading to Tesson Ferry. Her small group, about five in all, would chat about the news, share life events and learn about each others families.
"We had a lot of fun," she said. "We laughed a lot."
Even though Rebecca has a new public transit route now, she still stays connected with her transit group on Facebook.
Her new route now includes a mixture of MetroBus and MetroLink. She starts her commute in University City by riding the #2 Red or the #91 Olive. If she rides her bike, she skips the bus and rides to the Wellston MetroLink Station.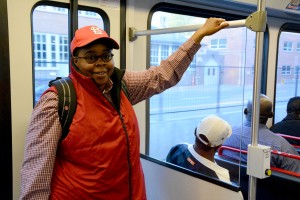 When she takes the bus, she gets off at the Skinker MetroLink Station and rides the train to the Maplewood-Manchester MetroLink Station. She then boards the #57 Maplewood-Manchester bus, which drops her off near her work.  She said her commute takes about 40 minutes.
"I read my Kindle and catch up on my reading," she said. "It has become a sacred time."
Rebecca has specific reading material for her morning and evening commutes.  In the morning, she reads inspirational quotes. On her way back home, it's usually novels. She said she just finished the Divergent series.
"When I drive, I miss the chance to get my mind ready, for that time to sit and focus," she said.
Rebecca has been riding Metro for about four years. She grew tired of driving and thought she would give public transit a try.
"It's an adventure," she said.
Return to Blog