September 10, 2014
Thousands of customers depend on Metro transit every day to get to work, to school and other important destinations. Today, Rich and Alex are our featured "Passenger Profile."  We're interested in your transit story too. Email me at [email protected] and we may share your story in a future blog.
Rarely does a day go by without Alex mentioning MetroLink several times. Alex is one of our newest Metro fans and also one of our youngest.
Two-year-old Alex, his parents and his sister moved to St. Louis two months ago from West Virginia. They purchased a home in Oakville and have been using MetroLink to familiarize themselves with all the local attractions. Recently, Alex and his dad Rich made a day out of riding the train.
"He and I drove down to the Central West End and parked at my office," Rich said. "We then rode the MetroLink down to the ballpark and had lunch. We spent the remainder of the day traveling around the St. Louis area. We went to the airport, Forest Park, Laclede's Landing, the Delmar Loop, etc. After a long day, we drove back home. Later that evening, Alex asked if we could go back on Metro."
Rich said Metro makes it convenient to visit attractions or restaurants around town. With MetroLink, you don't have to worry so much about the things you do with a car.
"Parking can be a hassle," he said. "With Metro, you hop right off."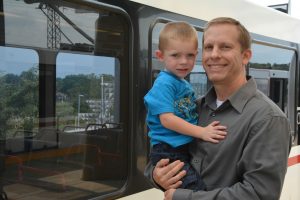 In addition to Metro being a convenient travel option, Rich likes the money saving aspect. He also said MetroLink allows you to budget your time more effectively. On the train, you can listen to music, read a book, or check email.
Rich advises those who have recently moved to the area to get online and do a little research. Find out what Metro offers near you and plan your trips before you board a train or bus. Also, don't be afraid to hop on and try it out. Oh, and don't be afraid to get lost, he said.
"There are people who don't like getting lost, but there are benefits of getting lost," Rich said. "You find things you wouldn't have found. You start to understand the layout of the area."
It's a good thing Rich did his research regarding MetroLink. He'll need to put his knowledge to use on future train adventures with Alex. Rich said almost all Alex wants to do on evenings and weekends is ride MetroLink.
"We haven't crossed the river into Illinois yet," Rich said. "That's definitely our next trip."
Return to Blog