July 1, 2015
Customers, like Sammie, depend on Metro transit to get to work, school and other important destinations. We hope you enjoy his story, and we're interested in your transit story too. Email [email protected], and we may share your story in a future "Passenger Profile" blog.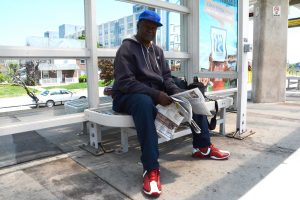 Sammie has been using Metro all his life, long before MetroLink ever came to his community in East St. Louis.
"I'm a public transportation rider," he said. "Metro is my main form of transportation."
Sammie relies on Metro transit to accomplish everything from everyday errands to kicking off big adventures. In one of his latest adventures, Sammie used MetroLink to go to the Civic Center MetroLink Station and connect with the St. Louis Gateway Multimodal Transportation Center, which houses Amtrak train service and Greyhound bus terminals.
"I went to Philadelphia for The Penn Relay Carnival," he said. "I was able to catch an Amtrak train by using MetroLink."
Back in Illinois, Sammie uses MetroLink to buy groceries, go to the movies and to get around town. He's not a big fan of being behind the wheel.
"I don't want to drive," he said. "I leave the driving up to you all."
Sammie uses the Belleville and Emerson Park MetroLink Stations the most and also uses the Washington Park MetroLink Station to visit the nearby library.
"I'm working on a book of photographs," he said. "It's about East St. Louis champions highlighting the very best in basketball, football and track and field."
Who knows? Maybe Sammie will take MetroLink to the library and find his own book one day.
Return to Blog