July 29, 2015
Passengers, like Sarah, depend on Metro transit to get to work, school and other important destinations. We hope you enjoy her story, and we're interested in your transit story too. Email [email protected], and we may share your story in a future "Passenger Profile" blog.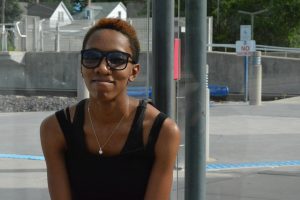 When Sarah was about sixteen years old, her mother wanted to teach her responsibility. One way to do that was by teaching her how to use MetroBus.
"My mom thought it was a good thing to do," Sarah said. "Eventually, I had to go out and do it on my own."
It's a good thing Sarah's mother taught her the in's and out's of using public transit, because Sarah rides Metro a lot these days.
"I get on the bus for everything," she said. "I go to the Saint Louis Zoo, to go renew my license, to Clayton and to visit my parents at Scott Air Force Base."
Sarah also depends on MetroBus and MetroLink to get her back and forth to work. She boards the #1 Main Street – State Street MetroBus to the Belleville MetroLink Station. From there, she rides the train to either the 8th & Pine or Stadium MetroLink Station. She said her work commute takes about 45 minutes.
"It's a peaceful ride," she said. "It's very convenient."
Sarah said one of the main reasons she chooses Metro is to save money on gas.
"A whole week of gas is more than $78 sometimes, especially if you're coming from Illinois to Missouri," she said. "The Metro monthly pass saves me money."
She added taking Metro also provides her a stress-free commute.
"You don't have to use your energy driving on the highway and dealing with traffic," she said.
Return to Blog