August 5, 2015
Passengers, like Shane, depend on Metro transit to get to work, school and other important destinations. We hope you enjoy his story, and we're interested in your transit story too. Email [email protected], and we may share your story in a future "Passenger Profile" blog.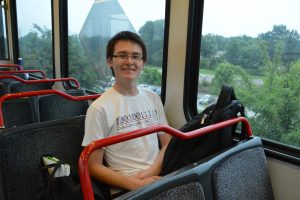 For the past five years, Shane rode Metro "intermittently." But this summer, Shane put his public transit use into full gear, and now he's riding the system almost every day to get to his internship at Washington University.
His commute to Washington University changes depending on the weather. If it's sunny outside, Shane catches the #58X Twin Oaks Express and takes it to the Grand MetroLink Station. He then rides the train to the Central West End MetroLink Station. If the weather is not as nice, Shane drives to the Shrewsbury-Lansdowne I-44 MetroLink Station and rides a Blue Line train to the Central West End MetroLink Station.
In addition to getting to Washington University, Shane also rides Metro to travel to downtown St. Louis and recently used Metro to attend this year's Fair Saint Louis.
"It's not that expensive to ride," Shane said. "It's very convenient."
For Shane, using Metro has another perk. As an intern at Washington University, he's able to take advantage of Metro's U-Pass program, which provides unlimited rides on MetroLink and MetroBus.
Return to Blog