September 16, 2020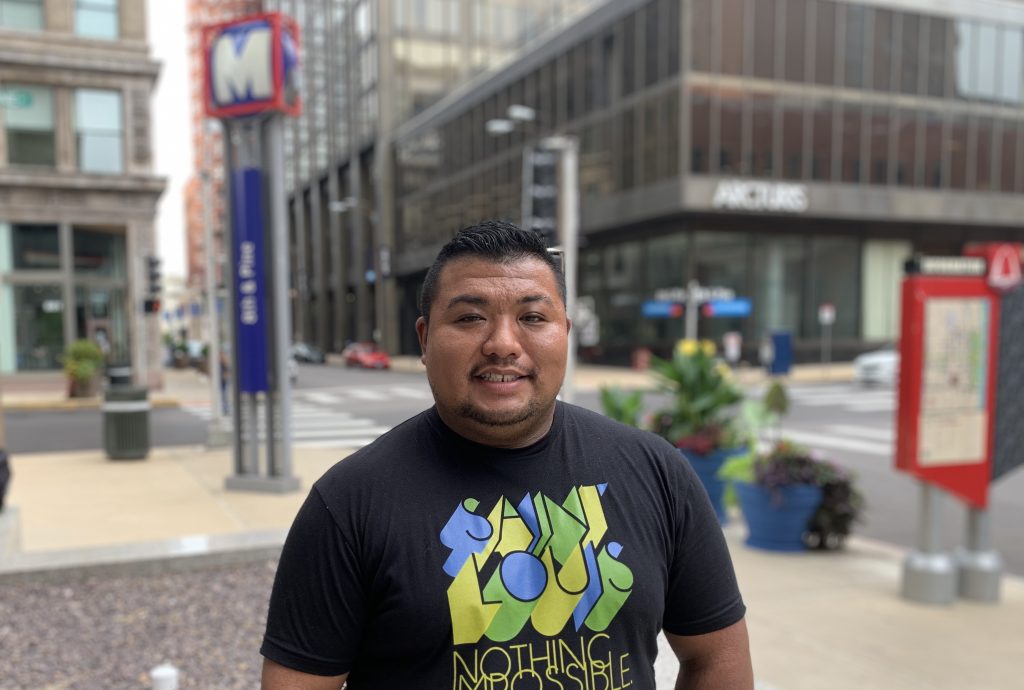 Shannon is passionate about public transportation and has been riding with Metro Transit ever since he moved to St. Louis in 2015. Even though he has a car, he enjoys riding to stay connected with the different neighborhoods in the city. "You feel the pulse of the city when you ride and share space with people you may not be side by side with otherwise," he shared.
One of the first times he rode Metro was when he visited St. Louis in 2009, and he made the trip from Lambert Airport on the Red Line to Laclede's Landing to see the Arch.
These days, you can normally find Shannon on MetroLink or on one of several MetroBus routes – his favorite is the #11 Chippewa, because he loves the neighborhoods it runs through and that it can connect you to some of the best destinations in St. Louis. But, the #10 Gravois-Lindell and #70 Grand also top his list.
He likes to ride Metro to weekend events and festivals held throughout the city, but with large gatherings currently not taking place, he's been riding Metro to get to the gym or just to get out and see the town.
Shannon knows he can rely on Metro, and for more than just transportation. One time, he accidentally left his wallet on the bus. Shannon was able to get in touch with a member of our community engagement team – and the Metro team got into action. They coordinated with MetroBus Operations to secure the wallet at one of our MetroBus facilities, and one of our bus operators was able to give Shannon a ride to the facility as they were ending service for the day. Through their responsiveness and teamwork, he was reunited with his wallet within the hour.
Check out our Q&A below to learn more about Shannon.
---
What do you like best about Metro Transit?
How generally well run it is. One of the most reliable systems anywhere. Although there is room for improvement, Metro seems to try and do its best to get better.
What are 3 words to describe Metro?
Reliable, on-time, responsive.
Have you noticed the changes to our Public Safety efforts and do you feel like your commute has improved?
I have noticed some of the changes and my commute on the train has improved. I would like to see the end of practically all nuisance behaviors on the train like smoking, and I think with increased security presence, we are on our way to this.
What is one thing on your bucket list?
Travel all around the world for an entire year.
What is your favorite way to spend your commute?
I actually like to be aware and observe where my bus or train is passing through. I like to take pictures as well. For me the journey to my destination is the adventure.
If you wrote a book about your life, what would you call it?
The Traveller
How do you get information from Metro?
I usually email [email protected]. I find it a great way to get my questions to the right people.
Do you have advice or tips for someone who is new to the system?
Get your 2-hour pass on the Transit app, otherwise no transfers are being issued due to COVID-19.
Want to take Shannon's advice? Check out our new mobile fares in the Transit app! Visit metrostlouis.org/mobilefares for more information.
---
Passengers like Shannon rely on Metro Transit to get to work, school and other important destinations. We want to hear your transit story. Email us and we may share your story in a future Passenger Profile.
Return to Blog
Categories:
Metro Lifestyle