June 29, 2016
Passengers, like Shelly, depend on Metro transit to get to work, school and other important destinations. We hope you enjoy her story, and we're interested in your transit story too. Email [email protected], and we may share your story in a future "Passenger Profile."
Shelly works at two area hospitals every week that are about 12 miles apart. It's a pretty normal commute, and Shelly is able to accomplish it all without a car.
"At first, it took some getting used to," she said. "After a while, you become more familiar with the different routes and it becomes second nature."
With Metro, Shelly avoids the cost of putting gas in her tank and paying for costly car repairs, while she can save her money for more important things.
"I get to save that money and put it into a house," she said. "I can live in the Central West End because of the money I save from using public transportation."
Shelly said she chose to go car-free for the financial benefits about 10 years ago, but today she has even more reasons for choosing Metro. In addition to its affordability, Shelly also enjoys riding Metro because it's easy to use and convenient for her busy lifestyle.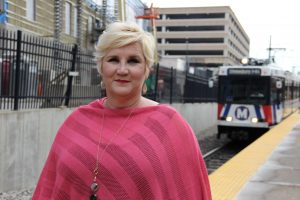 To travel from Barnes Jewish Hospital to DePaul Hospital, Shelly boards a westbound MetroLink train at the Central West End MetroLink Station and rides it to the Rock Road or North Hanley MetroLink Station. From there, she boards the #35 Rock Road MetroBus to DePaul.
"I've been a transit rider for over 10 years, and my friends always ask, 'Why don't you buy a car?' and I say to them, 'Why? Well, I don't need one. I take Metro.'"
Shelly has met so many interesting people on the train and bus. Her transit commute is her pipeline to the community.
"These are people I would not have had the chance to meet if I were not a Metro passenger," she said. "I feel a part of my city – 'the LOU' – on Metro, and advocate for Metro all the time."
Return to Blog